This post may contain affiliate links which won't change your price but will share some commission.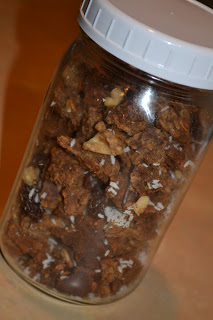 I was planning to make a big batch of my usual granola this week. But then I came across a recipe for soaked granola that looked good. And it turns out that I don't have that many oats in the house. So since I'm trying to soak most of our grains these days I decided to try that instead. It's from Kathryn's Kitchen. It's a very easy recipe. And it's really good!! I've made kishk granola and soaked granola before, but they weren't that great. I like this version better. The hard part now…keeping myself from eating too much! I guess we'll see today if I tolerated the oats or not. I munched on quite a bit yesterday, so this will be a good test to see if I can handle soaked oats now or not.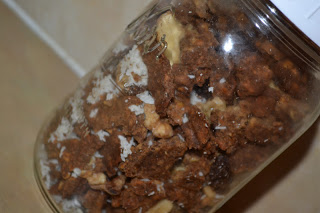 One thing I really like about this recipe is that it uses buckwheat in addition to the oats. It gives it a very hearty texture and flavor. Now I want to experiment with making granola/cereal. Even if I don't tolerate the oats well I can likely make some kind of granola with just wheat, buckwheat, etc. I baked it in the oven this time. Maybe I'll try the dehydrator next time. Some parts were done before others, so I had to monitor it quite a bit at the end. I also found that it is much easier to break up the granola when it is still warm rather than waiting for it to cool/harden. My pictures show the granola that stayed in larger chunks because I didn't break it until it was totally cooled. I put quite a bit of the granola in the freezer. And I added coconut, crispy walnuts and raisins. I'm happy to be eating some grains again and hopefully boosting some of my vitamin/mineral levels of things like magnesium. I soaked my grains a little differently than the original recipe. I used a combo of water and homemade yogurt. Ahh, my beloved granola…how I've missed you 🙂 And now that I can eat yogurt I can have my all time favorite yogurt and granola again. I'm thankful for the little things 🙂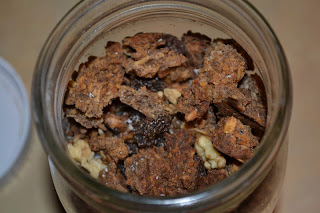 Soaked Granola
4 cups rolled oats
1 cup buckwheat
1 3/4 cups filtered water
2 Tbs apple cider vinegar
(I used 3/4 cups water + 1 cup yogurt)
1/2 cup melted coconut oil
1/2 cup honey
1/2 cup pure maple syrup (grade B)
1 Tbsp. cinnamon
1/2 tsp. sea salt
1 tsp. vanilla
Mix the oats, buckwheat, water and cultured dairy or vinegar. Cover and let sit 12-24 hours.
Heat oven to 200 degrees and prep two large baking sheets with parchment paper. This can also be made in a dehydrator.
Melt the coconut oil in a small pot and whisk in the remaining ingredients. Pour the coconut oil mixture onto the soaked grains and use a spatula to gently mix them together. Scoop the wet granola onto the two baking sheets and evenly spread the mixture out (the thinner the layer the faster it will dry and the more the texture will be like regular granola). Put in the oven and bake for 4 hours. Be sure to stir the granola every hour and rotate the baking sheets.
When it's done store in an airtight container. Add dried fruit, nuts, seeds, or coconut flakes if desired.