This post may contain affiliate links which won't change your price but will share some commission.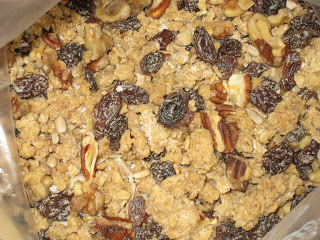 This morning I made a new batch of granola. Last week I made a batch of soaked granola. I made it the same way I always make granola. But it got a bit overdone. Today I decided to try a "raw" granola…meaning unbaked. I got this recipe from Nourishing Traditions. The main ingredient is kishk (a fermented dish made with cracked wheat that is soaked and dried). I substituted my soaked and dried oats. I also added some flax seed and a few sunflower seeds. It's kind of strange to just have it all mixed together unbaked, kind of loose. We'll see how it works. I'll try some later today. I only made a small batch to try it out. I think my next experiment will be somwhere inbetween…only bake it for 5 or 10 minutes. Maybe that will be the perfect balance. It will hold together, but not be overdone.
Kishk Granola
Makes 6 cups
4 cups kishk (I used soaked oats) (this can be gluten free if you use gf oats)
1 cup crispy pecans, almonds or cashews, chopped (I used pecans and walnuts…if using walnuts be sure to store the granola in the refrigerator since walnuts can easily get rancid)
1 cup dried sweetened coconut meat (I just used some organic, unsweetened coconut flakes and added a little extra sugar to compensate)
1 cup dried fruit (I used raisins)
1/2 cup Rapadura (I used organic cane sugar)
Mix all ingredients together. Store in zip-lock bags or airtight containers in refrigerator. Eat like granola with milk or cream.
This cereal will actually keep well for several weeks at room temp and is a good provision to take when one is traveling and wants to avoid hotel breakfasts.