This post may contain affiliate links which won't change your price but will share some commission.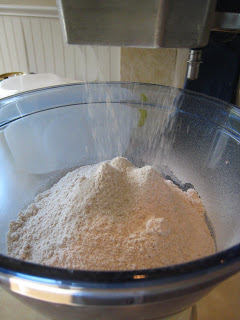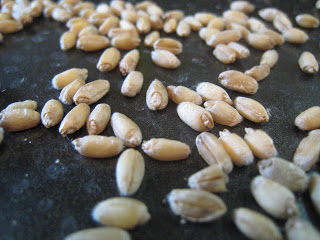 Over the weekend I made my first attempt at sprouting grains. I used hard white wheat (some winter, some spring). It turned out to be super easy! And went so quickly. I started soaking the berries Saturday night. By Monday mid-morning I had freshly ground sprouted wheat flour and some homemade sprouted whole wheat graham crackers 🙂  I'm so glad I tried this. I'll be sprouting more of my wheat berries for sure. By sprouting the berries before grinding the flour I eliminate the step of soaking the flour. This is so handy for recipes that aren't conducive to soaking, like many bread products. I'm planning to make sprouted whole wheat bagels later this week with the remainder of my fresh flour. I'll post the method I used for both the sprouting and the drying. You don't have to dry the berries. You can use them as soon as they are done sprouting in certain recipes, but not to make flour. They have to be dry to make flour. I followed the method I found on Kelly the Kitchen Cop. She also talks more in deatil about why you should sprout, in case you're interested.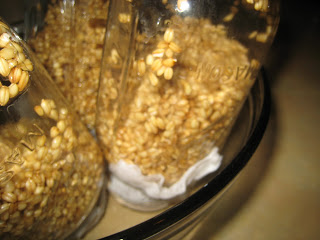 Sprouted Wheat Berries (or any other grain)
You start with whole grains (or seeds), like spelt or wheat berries.
Fill your jar about 1/3 full of grains, then add filtered water to the top, cover and soak overnight. (I used 3 1-qt jars.)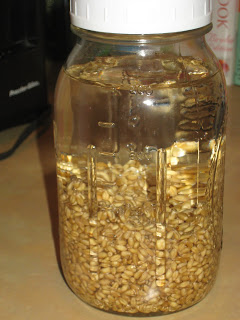 Next, drain them well. I drained them with a small strainer over the top of the jar. Then I put cheesecloth over the top, secured with a rubber band. And place them upside down in a large bowl.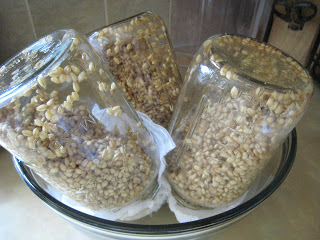 Rinse them 1-3 times per day…however often it takes to keep them damp. But after rinsing, they need to be draining again, so that they aren't wet for long.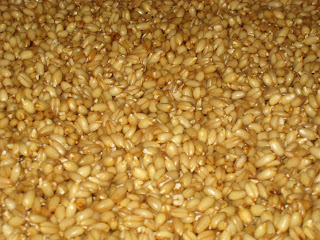 The sprouting can take anywhere from 1 to 4 days I think. But in this heat mine went quickly. I started draining Sunday morning. By Sunday night they were sprouted and ready for drying. At this point you can dry the berries or use them in casseroles and salads.
Sprouted wheat flour
After the sprouting dry the berries on a cookie sheet in the oven at 150. It took about 10 hours for mine to completely dry. Make sure they are totally dry, or they can ruin your grain mill.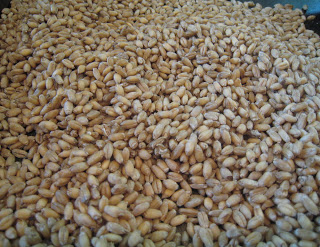 Then grind finely in your grain mill. And you have sprouted flour (also known as bulgur flour*)!! Store in the refrigerator or freezer.
*If you do a course grind instead of a fine grind you will have bulgur.