This post may contain affiliate links which won't change your price but will share some commission.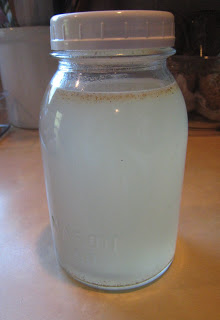 Keeping with my June goals I'm trying some fermented drinks. These can be more beneficial to your digestive system and overall health than only drinking water. And some of them are so easy to make. So I'm giving it a shot. I'm starting with punch. It's a Nourishing Traditions recipe. It's kind of like lemonade (basically lemon juice, water and sugar). Not sure how the fermenting will impact the taste. It's still in the fermenting process. I'll have to update once I've tried it (tonight or tomorrow). I hope it turns out well. It was simple to make. And a perfect way to use up some of the organic lemons I have. I only made a half recipe to try it. If it's good it'll be a very cheap, healthy and easy drink to have on hand in place of things like juice.
**Edited 6/2/10 – This is very good! Tastes like lemonade. Now I have a great replacement for my grape juice. I was wondering how I was going to be able to cut out juice. This is it! Cheap, easy and good for my tummy.
Fermented Punch
Makes 2 quarts
juice of 6-8 lemons
1/2 cup Rapadura (I used organic cane sugar)
1/2 cup whey
1/2 tsp. grated nutmeg
2 quarts filtered water
Place all ingredients in a 2 quart glass container (I used a 1 quart mason jar to make a half batch). Cover tightly and leave at room temperature for 2-3 days (I shook it up a bit when I first put it in the jar). Skim off any foam that may have risen to the top. Cover tightly and refrigerate. The punch will develop more flavor over time.