This post may contain affiliate links which won't change your price but will share some commission.
Cereal. It's one of the foods we gave up when we switched to a Real food diet. But I think it's one of the foods my husband misses the most. And once in a while I do too. I used to be a cereal junky (seriously…I HAD to have it for breakfast every single day for about 10 years).
I've made soaked cereal (which I think tastes like Wheaties), granola and homemade golden grahams/cinnamon toast crunch. Yesterday I decided to try cocoa puffs.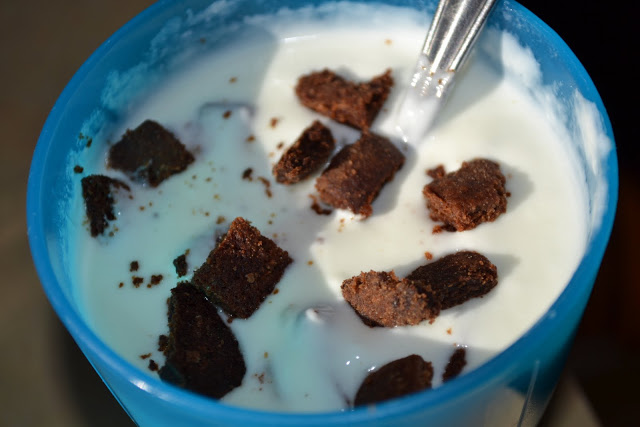 I never liked cocoa puffs. So it's not something I was missing. But my husband liked them. Especially for a bedtime snack.
The kids and I made a batch yesterday. They turned out pretty well. Little crunchy chocolaty bites. They aren't little balls, but you still get the same effect. The butter gives some crunch, while the coconut oil gives the light/crispy texture.
I like to use them to make cookies and cream yogurt. Simply mix a handful into plain or slightly sweetened whole milk yogurt. A real treat.
**You can make this gluten free as well!!!
Do you still eat cereal? Did you give up cereal but miss it? What's your favorite kind? Are there any real food versions of cereals you'd like to see?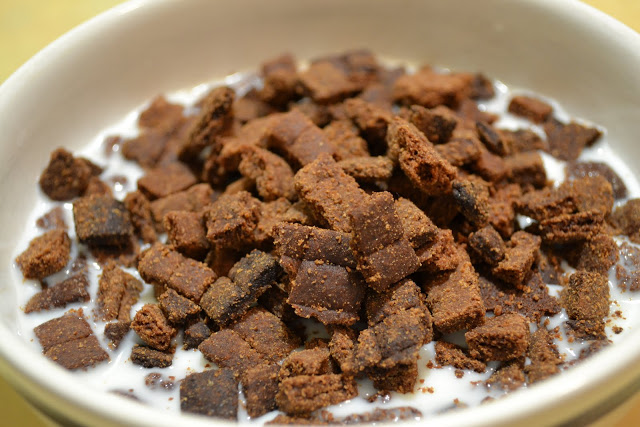 Homemade Cocoa Puffs
makes about 4 cups
1 3/4 cups flour (organic whole wheat, all purpose or a combination)
1/3 cup organic cocoa powder
1/2 cup organic white and/or brown cane sugar or sucanat
1 tsp. baking soda
1/2 tsp. sea salt
2-3 Tbsp. honey
1 – 2 tsp. organic chocolate extract
1 tsp. organic vanilla
1/4 cup butter, melted (you can replace this with coconut oil or palm shortening to make it dairy free)
1/4 cup coconut oil, melted
Heat oven to 350. Melt butter and coconut oil in sauce pan. Set aside. In a mixing bowl, stir together flour, cocoa, sugar, baking soda and salt. Add the liquids: honey, chocolate extract, vanilla, butter/oil. Stir well. Taste dough and adjust honey and chocolate extract to your liking. Mix until a nice ball of dough is formed.

 

The dough should not be crumbly.

 

If it is gradually a couple Tbsp. of water.

 

If it is still crumbly gradually add more honey.

Split dough into 2 equal parts. Cut 3 pieces of parchment paper the size of a cookie sheet. Lay one piece on table. Put 1/2 of dough on the paper. Lay a 2nd piece of parchment on top of dough. Squish the dough down a little with your hand. Use a rolling pin to roll the dough between the parchment paper. Roll until the dough is about 1/8″ – 1/4″ thick. Remove the top piece of parchment paper. Cut into very small squares (with pizza cutter). Place on a baking sheet (on the parchment paper…just move the whole thing onto the baking sheet). Repeat for other half of dough.
Bake for 11-12 minutes. Turn off oven, but leave cereal in to get crisp. Remove after about 10 minutes (if some of the puffs are burning remove the pan). Let cool completely. Separate squares. Store in an airtight container at room temperature or in the freezer.