This post may contain affiliate links which won't change your price but will share some commission.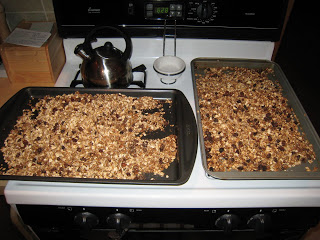 Homemade granola is such an easy breakfast or snack to have on hand in the cupboard or in the freezer. You can adjust it to your own taste.
12 cups rolled oats
1 1/2 cups dried fruit (any mix or just raisins)
2 tsp. cinnamon
optional mix ins:
-1 1/2 cups wheat bran or wheat germ
-1 cup chopped crispy nuts (almonds, pecans and walnuts work well)
-1 cup crispy seeds (pumpkin, sesame, sunflower, etc.)
-1 cup shredded coconut
-1 tsp. vanilla
1/2 cup honey and/or maple syrup
1/2 cup melted butter or coconut oil or combo of each
Heat oven to 325. Mix all dry ingredients, except fruit in one or two large bowls (however it is easiest to stir). (Mix a small amount of safe (oats, coconut, wheat bran, coconut, rasisins), dry ingredients in a smaller bowl for a toddler to mix and eat:) Heat honey and butter/oil in small pan until all melted/mixed. Pour over dry ingredients. Mix well. Spread granola onto baking sheets (you can do all of it on 2 sheets…they'll be very full. Or you can do it on 4 sheets (2 batches) so that it bakes a little more evenly. You may have to cut the baking time down a bit if you do it on 4 pans). Bake 20 – 30 min., stirring 2 or 3 times throughout. Add fruit during the last 5 min. or after granola is done baking. Let cool. Store in sealed container or bag. Freezes well. I generally freeze it in gallon freezer bags then just take out a little at a time as we need it. It can even be eaten directly from the freezer. You can scale the recipe down if you don't want to make a large batch. I make a ton and freeze it so that I don't have to make it all the time.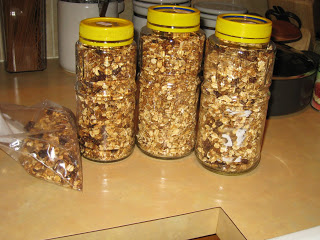 Here is the recipe we have from Justin's mom:
Granola
4 cups rolled oats
1 cup wheat germ
1 cup chopped nuts
1 cup coconut
1 (1 oz.) can sesame seeds
1 cup raisins
1/3 cup oil
1/3 cup honey
1 cup chopped dates (optional)
Heat oven to 300. Combine dry ingredients. Heat oil and honey to combine. Pour over dry ingredients. Mix well. Spread on baking sheet. Bake 12 min., stirring after 6 min. Add dates. Let cool.