This post may contain affiliate links which won't change your price but will share some commission.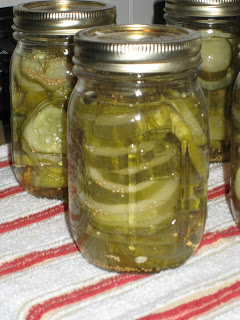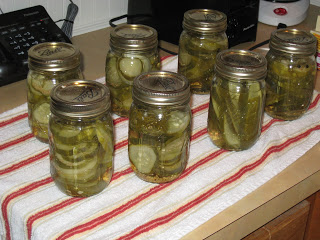 I canned a batch of hamburger dill pickles last night (recipe from my Ball Blue Book of Preserving). This is my first attempt at pickles. I'm anxious to try them, but they have to soak for 4-6 weeks. I still have some sliced cucumbers left, so I might try to do another small batch. But we'll see if time allows.
I got blueberries and cherries at the farmer's market yesterday to make cherry jam and blueberry syrup. I decided to skip the peaches this week since they'll be around for a bit yet. And then I'm not trying to squeeze in too much. Maybe next week. I'm hoping to get the blueberries and cherries prepped today. Then I can do the cooking/canning Th-Sat.
Yields about 7 pints
4 lbs. 4″ cucumbers
6 Tbsp. canning salt
4 1/2 cups water
4 cups vinegar
14 heads fresh dill
3 1/2 tsp. mustard seed
14 peppercorns
Wash cucumbers. Cut into 1/4″ crosswise or lengthwise slices. Combine salt, water and vinegar in a large saucepot. Bring to a boil. Pack cucumber slices into hot jars, leaving 1/4″ headspace. Add 2 heads of dill, 1/2 tsp. mustard seed and 2 peppercorns to each jar. Ladle hot liquid over cucumbers, leaving 1/4″ headspace. Remove air bubbles. Adjust two-piece caps. Process 15 min. in a boiling water canner.