This post may contain affiliate links which won't change your price but will share some commission.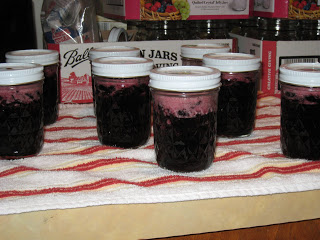 I squeezed in another round of canning last night. I made cherry jam. This was my first time making canned jam (I've done freezer jam once). The most time consuming part is pitting and chopping the cherries. I did that earlier in the day so that I could do the jam fairly quickly after dinner. It looks pretty good. I hope it tastes good. I got the recipe from my Ball Blue Book of Preserving.
Cherry Jam
Makes 8 half pints
1 qt. chopped and pitted sweet or sour cherries
6 1/4 cups sugar
2 Tbsp. lemon juice (use only w/ sweet cherries)
2 pouches liquid pectin
Combine cherries, sugar and lemon juice (if needed) in a large saucepot. Bring to a boil, stirring until sugar dissolves. Stir in liquid pectin. Return to rolling boil. Boil hard 1 min., stirring constantly. Remove from heat. Skim foam if necessary. Ladle hot jam into hot jars, leaving 1/4″ headspace. Adjust two-piece caps. Process 10 min. in a boiling water canner.