This post may contain affiliate links which won't change your price but will share some commission.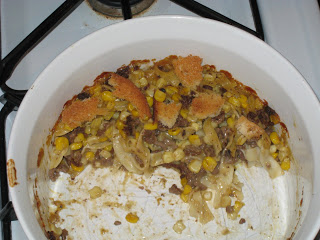 Last night I made an old favorite (of Justin's). It's a recipe from Justin's mom. They grew up calling it 2nd favorite casserole (I'll have to post favorite casserole the next time I make that:). I prepped it before breakfast yesterday and then it was ready to put in the oven in the evening. I forgot to take a picture until after dinner and after I had taken some out for Justin's lunch.
Hamburger Corn Bake
1 lb. hamburger (I only use 1/2 lb. and it seems like plenty)
chopped onion (however much you like)
1 pkg. corn, cooked (I just throw it in frozen and it thaws quickly and cooks when it bakes)
1/2 can cream of chicken soup
1/2 can cream of mushroom soup
1/2 can cheddar cheese soup (I replace all of the soups with homemade cheese sauce or white sauce)
2 Tbsp. chopped pimento (I've never added this)
1 1/2 cups medium egg noodles (I add anywhere from 1 1/2 – 2 1/2 cups, depending on how much I want to make)
1/2 cup bread chunks (just rip up a slice of bread)
1 Tbsp. butter, melted
Salt and pepper to taste if you like
Cook noodles and corn. Brown meat with onion. Drain. Stir in corn, soups and pimento. Mix well. Stir in noodles and seasoning. Put in 2 qt. casserole dish. Mix bread and butter. Sprinkle on top. Bake at 350 for 45 min. – 1 hr., until hot and bubbly (I usually bake it with the casserole lid on for about 3/4 of the baking time and then remove it at the end to let the bread crisp up a bit).