This post may contain affiliate links which won't change your price but will share some commission.
It sure has been a busy month! I think half of our time was spent at doctor visits or sick 😛  Thankfully most of the doctor visits were good ones. I actually did very well on my goals this month. It really is helping to keep them simple and concrete. Here's how it went.
1. Writing – I finished all of my writing assignments. Here is a link to my latest GRNL post.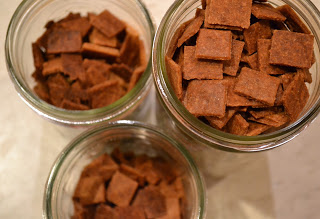 2. Photography – I updated some recipe photos. Still nothing amazing, but a step in the right direction 🙂  Soaked Graham Crackers, Golden Grahams, Whole Wheat Graham Crackers
3. Healing – I got all of my test results yesterday. I have so much information to process now. It's very overwhelming. I'll give a full update in a separate post.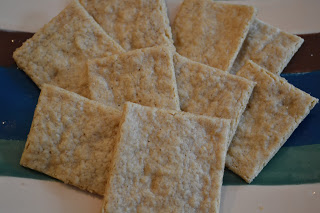 4. Homemade food – I had intended to work on crackers this month. I did make one batch of crackers that are kind of like saltines. But I spent a lot more time on cereal…even though we don't actually buy cereal 😛  Oh well. It was so much fun! And so delicious.
5. Relationships – Justin and I got to go to Bible study together and have a baby-sitter put the kids to bed. We also went to a small group event with couples from our church. I talked to my sister. Rebecca and I saw a Little Mermaid show and went shopping together.
6. Rebecca – I have decided to not give any more updates on Rebecca for the time being. I will say that we are making good progress and getting some answers. We feel like we are on the right track and are so happy to see Rebecca grow and mature. She is so smart, funny and imaginative. She amazes her teachers with how quickly she is learning Spanish. And she is a constant crafter at home, always coming up with some new project to work on. Her most recent accomplishment has been reading Spanish…and understanding what she's reading! Sometimes she truly amazes me. I started reading at the end of Kindergarten and was ahead of the game. Rebecca was reading English before preschool and is now reading Spanish part way through her first year of Spanish Immersion preschool. Crazy.
7. Crafts – I took a break from crafts this month.
8. Cakes – I am working on my nephew's soccer cake. I am brainstorming ideas for cakes for my kids.
9. Declutter – I actually can't believe how much of this I did in one month. I went through all of the toys in the living room (sort, put away, give away). I went through all of the toys in Rebecca's room (sort, put away, give away). And I organized Abram's drawers (put away clothes that are too small and restocked with current clothes). I also did a lot of random cleaning and organizing throughout the house. I'm not feeling quite so overwhelmed with "stuff" anymore 🙂
10. Acceptance – I've been reading Bittersweet when I have time. I still have a ways to go yet, though. I am enjoying this book so much!
I've also had some personal struggles with acceptance (of others and myself) that I'm learning to work through. God is really challenging me this year.
________________________________________________________________________________
January Links
I love this post about teaching children to be mindful and about meditation. I think this would be a great tool to use with Rebecca.
This is a very encouraging story about reversing asthma in a child with a real food diet.
I've been leery of stevia since I heard of it. Is it really a safe sugar substitute. Is stevia healthy? Holistic Squid gives some great information.
Washing your hair with only water? How frugal is that? Maybe some day I'll be brave and at least try swapping my shampoo for something like baking soda and ACV.
10 awesome uses for coconut oil! I already use it for toothpaste and deodorant. I may have to try some of the others, though.
Of course I love any posts that talk about eating to restore health and heal metabolism. Eat for Heat 😉  Here are a few:
Cold Hands and Feet
Eat to Increase Your Metabolism
10 Reasons NOT to work out (guilty!)
Carbs are NOT evil
Here are my posts from January:
Salsa Bread
Homemade Cocoa Puffs
Lemon Poppy Seed Muffins
Quinoa Mac 'n' Cheese
Roasted Cauliflower and Cheddar Soup
Homemade Oat Squares
One Handed Honey Herb Chicken
Healing Hot Chocolate
Soaked Chocolate Covered Donuts
Sticks and Stones Ice Cream
Homemade Frosted Mini Wheats