This post may contain affiliate links which won't change your price but will share some commission.
Yesterday we had sun-dried tomato pesto stuffed pork. It was something I had in the freezer, so I didn't make it from scratch yesterday. But I figured I'd still post the recipe. It's a Robin Miller recipe. Tonight we're having hot taco rice. I got the recipe from my mom. Can't remember where she got it, maybe a minute rice box. Very easy and yummy.
Sun-dried Tomato Pesto Stuffed Pork
2 1/2 lb. pork tenderloin
1 cup sun-dried tomato pesto
salt and pepper
1/4 cup balsamic vinegar
2 Tbsp. honey mustard
2 Tbsp. chopped, fresh thyme
Heat oven to 400. Spray shallow roasting pan with cooking spray. Cut pork lengthwise (open like a book) 3/4 through. Place in pan and spread pesto in middle. Fold pork back. Close seam with a metal or wooden skewer. Season with salt and pepper. Combine vinegar, honey mustard and thyme. Spoon over pork. Roast 1 – 2 hours (until internal temp is 155). Let rest 10 min.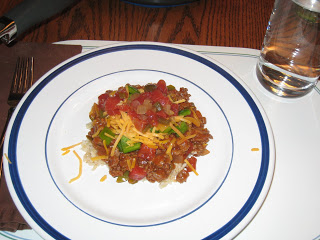 Hot Taco Rice
1 lb. ground beef
1 1/2 cups salsa (however hot or mild you like)
1/2 cup chicken broth
1 can (8 oz.) tomato sauce
1 1/2 cups rice
Garnishes: chopped tomatoes, sour cream, shredded cheese, avocado, salsa, olives, peppers, onions, tortilla chips (anything you would put on nachos or tacos)
Brown beef in skillet (sometimes I cook peppers and onions with it to add in some extra veggies). Drain. Add salsa, tomato sauce and broth. Bring to a boil, reduce heat and simmer about 10 min. Prepare rice (be sure to soak the rice in advance if using brown rice). Serve the beef mixture on top of rice. Top with garnishes. Scoop and eat with tortilla chips.