This post may contain affiliate links which won't change your price but will share some commission.
I canned a batch of salsa yesterday. The original recipe is from my Ball Canning Book. I modify it a tiny bit. I canned 7 pints and had a little left to have fresh in the fridge.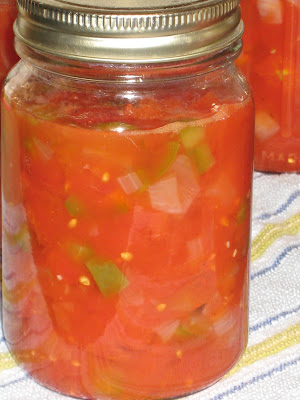 Zesty Salsa
makes 7-9 pts.
10 cups chopped, seeded, peeled tomatoes (I used canned – diced and petite diced)
5 cups bell peppers, chopped
5 cups onion, chopped
3 cloves garlic, minced
5 tsp. salt
1 tsp. pepper
1 1/4 cups apple cider vinegar
*I add some sugar to balance out the vinegar a bit…maybe 1/4 – 1/2 cup.
Combine all ingredients in large sauce pot. Simmer 10 min. Process 15 min. in boiling water canner. Remove lid and let sit for 5 min. Remove jars and let rest over night.