This post may contain affiliate links which won't change your price but will share some commission.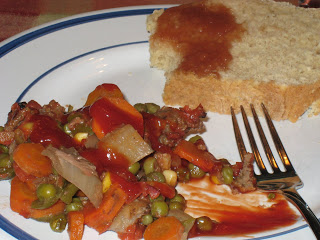 I made a casserole in the crockpot last night. It's a recipe from my mom. Very easy. And the crockpot makes it even easier.
7 Layer Dinner
4 cups sliced potatoes (I used 2 medium red potatoes)
1 large onion, chopped (adjust to your taste…we don't use this much)
3 cups carrots, sliced
1/3 cup rice (I skipped the rice this time…rice and potatoes is too much starch for me)
1 can peas and juice (I just put in some frozen peas)
1 lb. hamburger (could use 1 1/2 lbs.)
1 can tomato soup (I use homemade)
1 can water
Place all ingredients in greased casserole in order listed. Season with salt and pepper as you layer. Cover. Bake at 350 for about 1 1/2 hours.
*You may need to remove the cover 1/2 way through to get rid of some of the liquid. You can also cut down on the water…I find it's a little liquidy with that much. And you should reduce the water if you skip the rice.
*I put it all in the crockpot. I added some peppers and frozen corn after the carrots. I cooked it on low for about 9 hours. It could have been done after 6 hours. Or it could have gone longer. I think I'll skip the water all together the next time I make it in the crockpot. I only did a half can, but it still had plenty of liquid from the veggies and meat as they cooked.