This post may contain affiliate links which won't change your price but will share some commission.
We had quite a spread for Thanksgiving yesterday. I hosted, so I provided all of the hot dishes. I'll post the recipes for a few of them. I made a 20 lb. turkey, mashed potatoes, gravy, dressing, squash and green bean casserole. Family members brought corn souffle, pink salad, applesauce, rolls, pumpkin pie, apple pie and cheesecake. Everything was delicious. I didn't take individual pictures of everything. But I got a picture of the table. I took a couple pics when I made leftovers, not as good as the original picture would have been, but better than nothing. I'll post the recipes I haven't shared on my blog yet. Now it's time to decide how to use my leftovers 🙂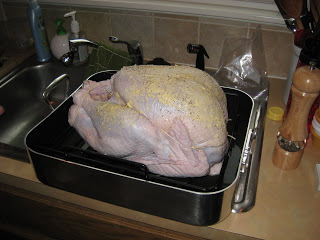 And I have to debone the turkey (no time last night).
Roast turkey
*This isn't so much a recipe, just the method I used after doing lots of reading and wanting to do something simple for my first attempt.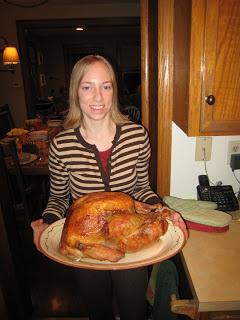 1 turkey (mine was about 20 lbs.) butter
salt
pepper
garlic powder
chicken broth (or turkey if you can find it)
Remove neck, gizzard, etc. from turkey. Wash insided and out. Dry. Place on roasting rack. Sprinkle inside with salt and pepper (and any spices you wish). Tie with kitchen twine. Rub skin with butter. Sprinkle with salt, pepper and garlic powder. Pour broth into bottom of pan (enough to cover bottom) Roast at 325 for about 5 hours. I roasted it for about 1 hour, then covered it with foil. I removed the foil for the last half hour to brown. Add more broth or water to pan as it cooks. I used 4 cups broth plus some water throughout the cooking. Remove from oven and let rest for 30 min. Cover with foil. Make gravy with pan drippings.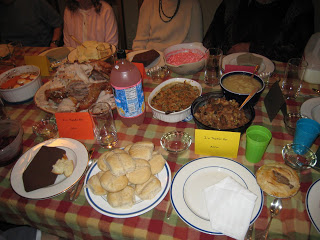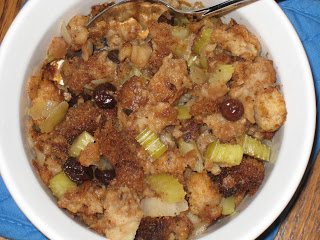 Crockpot Stuffing (from A Year of Crockpotting)
1 loaf bread, cubed and lightly toasted in oven
1 medium onion, diced
1 cup celery diced
1 cup tart apple, peeled and diced
1/4 cup butter, melted
1 1/2 cups chicken broth (or more)
1 Tbsp. sage (I left this out b/c I didn't have any)
1 tsp. marjoram
1/2 tsp. savory
1/2 tsp. thyme
1 tsp. salt
1 tsp. pepper
1/2 cup raisins (my addition)
Add onion, celery, raisins and apple to crockpot. Add seasoning and butter. Mix well. Add bread. Mix well. Add broth and stir. Cook on high 2 hours. Stir. Add more broth if too dry.
*I stirred the stuffing after an hour or so and added more broth then. I also turned the crockpot to low after 2 hours to let it cook a little longer and stay warm until dinner.
*If you like the celery and onions super soft you could cook them in a skillet first.
*This stuffing was so good. Never would have guessed it came out of the crockpot. But it was nice to not have to take up more room in the oven. And I prepped all the ingredients the day before.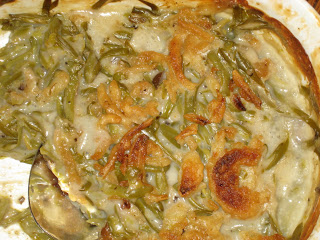 Green Bean Casserole (classic French's or Campbell's recipe)
1 can cream of mushroom soup
1/2 cup milk
pepper
4 cups cut green beans (frozen, thawed or fresh, cooked) or 2 can french style green beans drained
1 1/3 cup french fried onions
Mix soup and milk in 1 1/2 qt. casserole. Add beans, pepper and 2/3 cup onions. Mix well. Bake at 350 for 25 min. Sprinkle with remaining onions. Bake 5-10 min. more.
Pink Salad (family recipe)
1 small pkg. cottage cheese
1 small pkg. dry red jello
1 can drained pineapple (cubes, tidbits or crushed)
1 pkg. dream whip, prepared
Mix all together. Chill.
*This sounds like an odd combination, but it's really good! You should try it.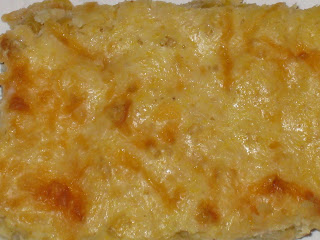 Corn Souffle (got this from my sister)
2 Tbsp. butter
1 pkg. (8oz.) cream cheese
1 can (15 1/4 oz.) whole kernel corn (drained)
1 can cream style corn
1 pkg. (8.5 oz.) corn muffin mix (like Jiffy)
2 eggs, lightly beaten
1 cup cheddar cheese
Preheat oven to 350. Microwave butter until melted. Add cream cheese, microwave for about 15 seconds or until cream cheese is softened. Stir until blended. Add corns and muffin mix and eggs. Mix well. Pour into greased 9×13 pan; sprinkle with cheddar cheese. Bake 40 minutes or until golden brown. Cool.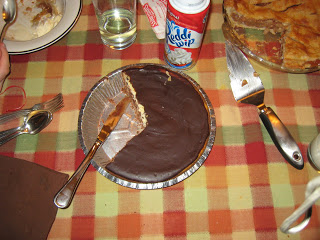 Hugs and Chips Cheesecake (got this from my mom…I think it's a Hershey's or Nestle recipe)
2 (3 oz.) pkgs. cream cheese, softened
1 (14 oz.) can sweetened condensed milk
1 egg
1 cup mini chocolate chips
1 tsp. flour
1 tsp. vanilla
1 (6 oz.) ready made chocolate pie crust
Chocolate glaze:
1/2 cup mini chocolate chips
1/4 cup whipping cream
Heat oven to 350. With mixer beat cream cheese until fluffy. Gradually beat in milk until smooth. Add egg and vanilla. Mix well. Toss chips with flour. Stir into cheese mixture. Pour into pie crust. Bake 35 min., or until center springs back when lightly touched. Cool and top with glaze. Serve chilled.
Glaze:
Melt chips with whipping cream. Cook and stir until thickened and smooth. Immediately spread over pie.