This post may contain affiliate links which won't change your price but will share some commission.
I've never made shepherd's pie before…I don't think I've ever actually had it before. And neither had Justin. But I decided to make it with our leftover mashed potatoes. I looked up quite a few recipes…they are all a little different. So I decided to not use a recipe and make my own 🙂 I didn't eat it (I was using up other leftovers). But Justin did. He really liked it. So I guess I'll try to create a recipe based on what I did. We didn't have that many potatoes left, so there wasn't a very thick layer on top.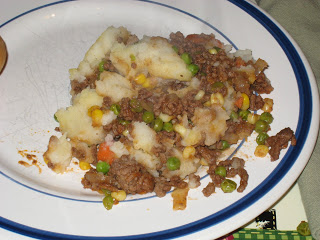 Shepherd's Pie
1 lb. ground beef
1 small onion, diced
1 carrot, sliced
1/2 cup frozen peas
1/2 cup frozen corn
1/2 cup beef broth
1/4 cup ketchup
salt
pepper
2 cups mashed potatoes
Heat oven to 375. Cook beef, onion and carrot in skillet. Drain. Add peas, corn, broth, ketchup, salt and pepper. Simmer 5 min. Put in 8″ baking dish. Top with mashed potatoes. Bake 25 min.