This post may contain affiliate links which won't change your price but will share some commission.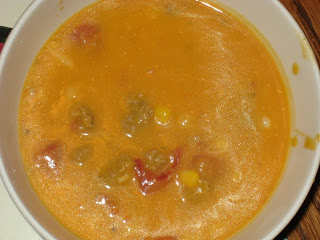 I got this recipe from Elaine at church. It is really good!! It does take a little bit of work, but it makes a huge batch of soup, so it's worth it. I managed to use up another squash (only half was necessary for the soup…that's how big they are!). Two to go yet 🙂 Gotta find more squash recipes. I was trying to make a half batch of soup since it makes so much, but ended up making closer to a full batch since our squash is so big. I did cut down on the beans and tomatoes (I only had 1 can of beans, and Justin isn't crazy about tomatoes). And I used sweet Italian turkey sausage (removed meat from casing). I didn't get the best picture. The soup has great color and looks quite fancy 🙂
Butternut Squash and Italian Sausage Soup
8-10 servings
1 Tbsp. evoo or lard (I skipped this…the sausage has plenty of fat to cook on its own)
16 oz. Italian sausage (I used turkey sausage)
1 red or yellow onion, chopped
1 red bell pepper, chopped
2 tsp. finely diced garlic
1 large butternut squash (a/b 3 lbs.), peeled, halved, seeds removed (1 lb. = 1 cup mashed)
1 (15 oz.) can corn kernels, drained and rinsed (I used frozen corn)
salt, pepper and garlic powder to taste
2 (15 oz.) cans diced tomatoes
2 (15 oz.) cans northern beans, drained and rinsed (or dried beans soaked and cooked)
1/2 cup heavy whipping cream or whole milk
salt and pepper to taste
fresh, chopped parsley for garnish
In stockpot heat oil. Add sausage. Brown and remove from pan, leaving grease to saute onions (I drained the grease). Transfer sausage to a plate lined with paper towel. In stockpot add onion and saute until translucent. Add peppers and garlic and saute a couple minutes. Meanwhile, cut squash into 1″ dice. Add to pot. Add 1/2 of corn. Cover with water (6-8 cups), depending on how thick you want your soup. Add seasoning. Cook squash until soft, about 20 minutes (I cooked mine for at least 30 minutes).
In batches in food process or blender, puree soup (I used an immersion blender). Return to stockpot. Add tomatoes, remaining corn, beans and sausage. Add cream and adjust seasoning to taste. Garnish with parsley.
*If you don't like sausage (or don't have any on hand) this would still be great without meat. Or chicken or some kind of seafood would work really well in it too.