This post may contain affiliate links which won't change your price but will share some commission.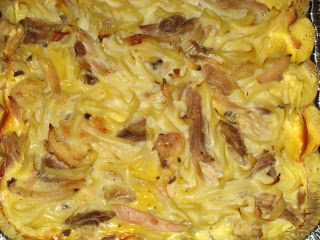 I got this recipe from my mother-in-law. It's simple and delicious. I've made it with turkey, chicken and ham. They all work well.
It's a good casserole for using up leftover meat after a big holiday meal. I made this batch for a family from church. I doubled the recipe since the original only makes an 8×8 pan…and I have to make this for 7 people 🙂
It would also be good with peas or green beans added to it to make it more of a one dish. You can add any seasoning you like.
Turkey (chicken, ham) Noodle Bake
Ingredients:
3/4 cup milk or milk substitute
1/2 can cream of mushroom soup or homemade dairy-free cream sauce
1 egg, beaten
1 1/2 – 2 cups egg noodles, or brown rice noodles, cooked
1 cup turkey (chicken or ham), cooked, cubed
1 slice bread, ripped into chunks
1/2 cup cheddar cheese or dairy-free cheese, cubed
2 Tbsp. butter, melted
Directions:
Heat oven to 350 degrees F.
Grease an 8×8-inch or 9×9-inch glass pan.
Blend the milk and soup.
Stir in the egg.
Add the noodles, turkey, bread, cheese, and butter. Stir well.
Spread in the prepared baking dish. Bake for 40 minutes, until knife inserted in center comes out clean.