This post may contain affiliate links which won't change your price but will share some commission.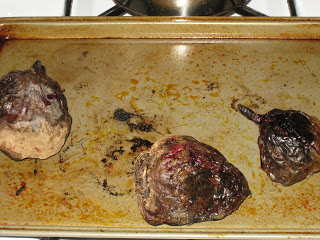 I tried an Anne Burrell recipe last night. I saw it on her show a few weeks ago and it looked interesting. And a way to try beets. It was really, really good!!! Justin and I both liked it. And he isn't even that crazy about beets. The combination of all the flavors was so good. The salty cheese and nuts with the beets and a simple dressing. Yum!!!! And it looks really fancy too. Maybe I'll have to make it the next time I have guests. I had never cooked a beet before (only ever had them from a can…shudder :P). It's pretty easy…just put them on a pan and toss them in the oven.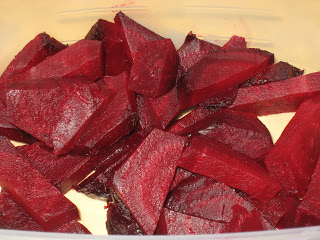 They were kind of tough to peel. So I just sliced them with the peel on and then trimmed the peel off of each slice with a knife. It went much faster. And was less messy. I only used regular beets. I didn't see baby beets at the store. And it took much longer to roast mine than the recipe says. I think they were in the oven for a little over an hour and a half. And I turned the temp up higher part way through. Now I have some leftover beets to snack on and use on my salad for dinner tonight 🙂 I don't know if I had ever had a pistachio before either. But now I know they are really good!
This post is linked to the Whole Foods for the Holidays progressive dinner – salad course.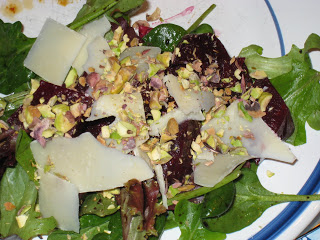 Roasted Beet Salad with Arugula, Pistachios and Shaved Pecorino
4 large beets, red, golden, or Chioggia or any combination (I made 3 organic red beets)
8 to 10 baby beets- any color or combo (I skipped these, but it would be a pretty presentation)
2 cups baby arugula (I used mixed organic baby greens…we don't like arugula)
2 to 3 tablespoons balsamic vinegar
2 to 3 tablespoons high quality extra-virgin olive oil
Salt
1/4 cup pistachios, toasted and chopped (soaked and dehydrated)
1/4 cup shaved pecorino, aged pecorino Toscano or pecorino Romano (I used parmesan since I had it on hand)
Preheat the oven to 375 degrees F. Place all the large beets on a sheet tray and bake for 40 to 45 minutes or until a fork slides in and out of the beets easily (I roast mine on a baking sheet lined with parchment paper. It takes about 1 1/2 hours at 400 degrees.). Add the baby beets to the tray for the last 20 minutes of cooking time. When the beets have cooled, peel them. Slice the large beets into 1/2-inch thick slices. Cut the baby beets in half.
Place the arugula in a bowl and drizzle in about half of the vinegar and olive oil and season generously with salt. Toss the salad gently to incorporate all of the ingredients. TASTE IT! It should taste very flavorful but not soggy. Arrange the arugula on 4 individual salad plates. Toss all of the beets together in the salad bowl and add the remaining oil, vinegar and salt, and toss. Arrange the dressed beets on the arugula and top with the pistachios and shaved pecorino.
*I whisked the oil, vinegar and salt in the bottom of 2 bowls and then added the greens/beets and tossed.
*I served all the components individually (dressed greens, dressed beats, cheese and nuts) so that we could each make our own salad to our liking…quantities of each ingredient.