This post may contain affiliate links which won't change your price but will share some commission.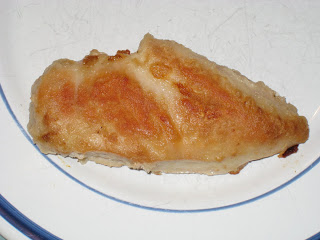 This chicken recipe is from my mother-in-law. It's not really fried, bit it tastes like it is.
"Fried" chicken is very easy to make and tastes very good. I've been making it since before we got married!
I love that it requires very little hands on time. You just brown the chicken, cover and let it cook for an hour.
My whole family really enjoys this chicken. It can be made with just about any kind of flour. And it pairs well with just about any sides and sauces. Perfect.
Fried Chicken
boneless, skinless chicken breasts (as many as you need)
~ 1/4 cup flour per chicken breast (I just put some in a bowl…however much looks right)
salt and pepper to taste
~1 Tbsp. olive oil
Trim any fat off chicken. Mix salt and pepper into flour. Coat each chicken breast in flour. Heat oil in pan. Place chicken in pan top side down. Cook about 5 min. – until browned. Flip chicken. Cook another 2 min. Reduce heat to very low. Cover and cook for 1 hour. About 5 min. before serving take lid off pan and flip chicken to re-crisp the top side.
Serve as is, with dipping sauce (sweet 'n' sour, bbq, etc.) or topped with sauce (pesto, etc.).