This post may contain affiliate links which won't change your price but will share some commission.
We had yummy sandwiches for dinner last night. This is another recipe from my Barefoot Contessa cookbook. It's hard to call it much of a recipe…basically a BLT with avocado. But I'll post her recipe anyway. I didn't add the lemon juice, salt and pepper. I just didn't have time and didn't think it was necessary (maybe I'll try it some other time). These were soooo good. I've always loved BLTs. But with avocado…even better! I used sliced grape tomatoes since that's what we had on hand. A little harder to eat, but still good. And I even got Justin to try a little tomato…and he admitted that he kind of liked it! He's slowly changing his mind about tomatoes 🙂 I served our sandwiches with a small salad. This was a perfect meal for a warm, sunny spring day.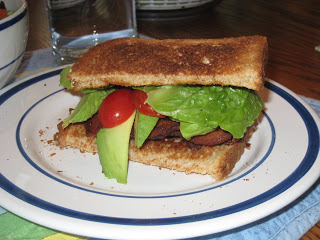 California BLTs
6 thick-cut slices smoked bacon
4 slices good white bread, cut 1/2-inch thick
4 Tbsp. good mayonnaise (recommended: Hellman's)
4 to 8 tender green lettuce leaves, washed and spun very dry
1 ripe Hass avocado
1/2 lemon, juiced
1 large ripe tomato, sliced 1/2-inch thick
Kosher salt and freshly ground black pepper
Preheat the oven to 400 degrees F. Place a baking wire rack on a sheet pan and arrange the bacon on the rack in a single layer. Bake for 15 to 25 minutes, until the bacon is browned and crisp. Drain on paper towels and set aside.
Place the bread slices on a sheet pan and toast them for 5 minutes. Turn the slices and toast for 1 more minute, until all the bread is evenly browned.
Place 2 slices on a cutting board. Spread each slice with about 1 Tbsp. of mayonnaise. Cover the slices with a layer of lettuce. Place 3 slices of bacon on top. Peel the avocado and slice it 1/2-inch thick. Toss the avocado slices gently with the lemon juice, and arrange on top of the bacon. Add a layer of tomato slices on top. Sprinkle liberally with salt and pepper. Spread each of the remaining 2 slices of toasted bread with 1 tablespoon of mayonnaise and place, mayonnaise side down, on the sandwiches. Cut in half and serve.
*I cooked my bacon in a pan on the stove…I don't have an oven proof wire rack.
*I toasted my bread under the broiler.
*I made a full sandwich for Justin and a half for myself. We use Meijer organic whole wheat bread…and the slices are quite large.