This post may contain affiliate links which won't change your price but will share some commission.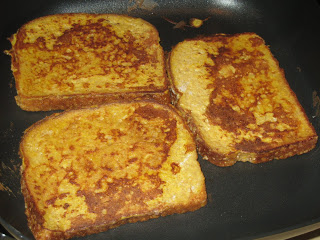 I made french toast for dinner last night. I haven't had it in forever. And I LOVE it. Just the smell reminds me of being a child. My mom made it for breakfast/brunch/lunch (depended what time we all got up:) every Saturday. I tried a combo of my mom's "recipe" (eggs and milk) and a Deceptively Delicious recipe. It worked really well. And we got a tiny bit of veggies in our french toast 🙂 I don't have my cookbook with me at the moment, so I can't write the exact recipe. But I'll write down what I did. I used butternut squash puree. There is a whole list of purees you could try it with…whatever you have on hand/is easiest. I served it with organic maple syrup, powdered sugar (Justin wanted to try that) and some cut up fresh fruit (peaches, nectarines and apples from the farmer's market and pears from my in-laws). We all loved this. Even Rebecca gobbled it up…she would hardly eat anything else :p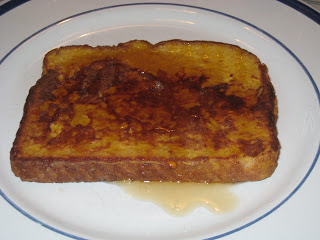 French Toast
makes 5 large slices
3 large eggs (hormone free, cage free)
2 Tbsp. butternut squash puree (from our garden/freezer)
1/4 cup milk
1/2 tsp. cinnamon
cooking spray/butter
5 large slices whole wheat bread (natural)
Whisk eggs, squash, milk and cinnamon in shallow bowl. Heat a skillet over medium heat (I used an electric skillet set at 375). Spray with cookin spray or add a little butter. Dip bread in mixture until totally saturated. Place in hot skillet. Cook about 3 minutes on each side, until golden.