This post may contain affiliate links which won't change your price but will share some commission.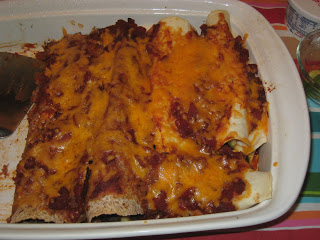 For dinner on Monday I made zucchini enchiladas. I got the recipe from my SIL Shannon. This was so good!!! I made the sauce and the filling in the morning. Then assembled and baked at dinner time. I just used the tortillas we had in the freezer…4 Ezekiel and 6 flour. And there was still filling leftover. I added a little diced green pepper, tomato and roasted red pepper to the filling since I had some to use up. And I served them with sour cream, salsa and diced avocado. You definitely don't miss the meat in this dish. Filling, great flavor and good for you! Definitely something I'll make again. It made a lot, so there is enough for lunches, another dinner and some to have on hand in the freezer.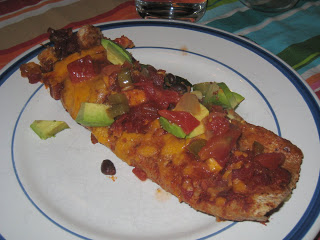 Black Bean, Corn, and Zucchini Enchiladas
Prepare the Enchilada Sauce a few days ahead of time, and refrigerate (I just made it in the morning).
Yield 8 servings (serving size: 1 enchilada)
1 tsp. canola oil (I used EVOO)
2 cups diced zucchini (from our garden)
1 (10-ounce) package frozen whole-kernel corn (organic)
1 (15-ounce) can black beans, rinsed and drained (organic)
3 cups Enchilada Sauce, divided
Cooking spray
8 (8-inch) whole wheat tortillas (I used 4 (10″) Ezekiel, 6 (6″) flour) (use corn or other GF tortilla to make this GF)
2 cups (8 ounces) shredded reduced-fat cheddar cheese, divided
Preheat oven to 350°.
Heat oil in a large nonstick skillet over medium-high heat. Add 2 cups zucchini and corn; sauté for 5 minutes or until vegetables are tender. Remove from heat, and stir in beans.
Spread 1 cup Enchilada Sauce in the bottom of a 13 x 9-inch baking dish coated with cooking spray. Spoon about 1/2 cup zucchini mixture down center of 1 tortilla; sprinkle with 2 tablespoons cheese, and roll up. Place seam-side down in baking dish. Repeat procedure with remaining tortillas, zucchini mixture, and 14 tablespoons cheese. Spread remaining 2 cups sauce evenly over enchiladas.
Cover with foil; bake at 350° for 30 minutes. Uncover; top with remaining 1 cup cheese. Bake, uncovered, for 10 minutes or until cheese melts.
 
Enchilada Sauce
Yield 3 cups (serving size: about 1/3 cup)
1 tsp. canola oil (I used EVOO)
1/2 cup diced red onion (I used yellow, from the farmer's market)
1 tsp. minced garlic
1/2 cup organic vegetable broth (such as Swanson Certified Organic) (I used organic chicken better than bouillon w/ water)
1 Tbsp. chili powder
1 Tbsp. honey (locally made, I used a little more than this to balance out the spice for us)
1 tsp. ground cumin
1/2 tsp. salt
1 (28-ounce) can crushed tomatoes,
undrained
(I used petite diced)
Heat oil in a large saucepan over medium heat. Add onion and garlic; sauté 5 minutes or until onion is tender. Stir in broth and remaining ingredients. Reduce heat, and simmer 30 minutes.