This post may contain affiliate links which won't change your price but will share some commission.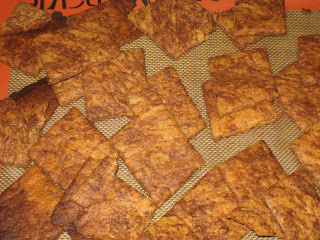 Yesterday I tried making chocolate graham crackers. This isn't a new recipe. It's my same graham cracker recipe. But this is the first time I added cocoa to make them chocolate. I made the dough, then took out half, then added cocoa to half. After mixing it in I realized it's probably better to add the cocoa at the beginning, with the rest of the dry ingredients. Oh well. They look like marble grahams 🙂 But they still taste chocolatey.
*Edited 9/6/10 – Made another batch this morning…adding the cocoa into the dry ingredients. Works MUCH better : P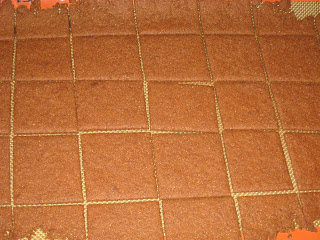 Chocolate Graham Crackers
2 1/4 cups whole wheat flour
1/2 cup rapadura (dehydrated cane sugar)
1 tsp. baking powder
1/2 tsp. baking soda
1/2 tsp. salt
1/4 tsp. cinnamon (optional)
1/3 cup cocoa
4 Tbsp. honey
1/4 cup water (I usually have to add more than this to get a good ball of dough)
1 tsp. vanilla
1 stick butter, melted (or 1/2 butter, 1/2 coconut oil)
Heat oven to 350. Melt butter in sauce pan or microwave. Set aside. In a mixing bowl, stir together flour, sugar, baking powder, baking soda, salt, cinnamon and cocoa. Add the liquids: honey, water, vanilla, butter. Stir well until a nice ball of dough is formed. Use silpat or line 2 baking sheets with parchment paper. Put half of the dough on each baking sheet. Use another piece of parchment on top of dough. Squish the dough down a little with your hand. Use a rolling pin to roll the dough between the parchment paper. Roll until the dough covers the whole cookie sheet. Remove the top piece of parchment paper. Cut into squares or shapes. Separate the dough a bit if you're cutting out shapes. Bake for 13 minutes. Turn off oven, but leave crackers in to get crisp. Remove after 15 min. Let cool completely. Break crackers apart (if you just cut the squares and left them close together). Store in airtight container.