This post may contain affiliate links which won't change your price but will share some commission.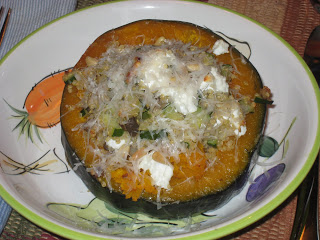 Last week I bought some buttercup squash at the orchard. I had never had it before. I tried to think of a creative way to use it besides the usual way to roast squash. I decided to stuff it. I've never done that before. And I actually couldn't find many recipes for stuffed squash…at least not many recipes that could serve as a main dish. So I came up with something on my own! A mix of quinoa, mushrooms, zucchini, pepper, onion, goat cheese and pine nuts stuffed inside a squash half. Then topped with grated parmesan. Wow! So good! Even Justin, who doesn't like mushrooms, thought it was really good. He was amazed that I just came up with this on my own. We even ate some of the squash skin, it was that good. I had never done that before. And I was quite surprised by how good it is! And probably good for you. This is definitely something I'll do again. And I'll play around with different stuffings. A wonderful healthy, hardy, meatless fall dinner. Not only does it taste good, it's very pretty too 🙂 Something fun to try with guests…everyone gets their own little bowl 🙂 I'll try to write down approximate quantities. You could use any kind of squash for this. But buttercup really worked well. I just used a small squash…perfect for 2. We each had a half. To feed more you could stuff more squash or use a larger squash and serve quarters. You can use whatever veggies you have on hand too. I served it with some homemade apple pearsauce. Yum!!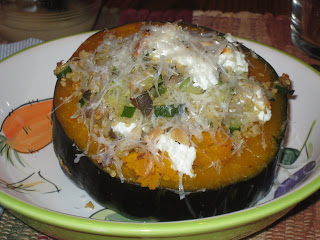 Quinoa, Veggie and Goat Cheese Stuffed Squash
serves 2
1 small buttercup squash, washed, halved, seeds removed
1/4 tsp. salt
1/2 cup water
1/4 cup quinoa
1 small zucchini, diced
1/4 onion, diced
3-5 white mushrooms, diced
1/4 green pepper, diced
salt and pepper
3 oz. goat cheese
1/4 cup pine nuts
2 Tbsp. freshly grated parmesan cheese
Heat oven to 400 degrees. Prep squash. Place on baking sheet, cut side up. Sprinkle with salt. Fill pan with a little water. Tent with foil. Bake until squash is cooked (45 min. – 1 1/2 hrs. depending on the size).
While squash is baking, cook quinoa: boil water, add quinoa. Cover, cook on low for 12 min. Remove from heat, fluff with fork. Cover for 15 min.
Sautee veggies in small amount of EVOO. Season with salt and pepper.
Mix quinoa and veggies in separate bowl. Stir in nuts and crumbled goat cheese just before stuffing, reserving a little for topping.
When squash is cooked, remove from oven. Scrape up a little squash if needed to make room for the stuffing. Fill each half of the squash with half of the stuffing mixture. Top with a little more goat cheese and nuts. Place back in the oven for 15 min. Grate parmesan over top just before serving.