This post may contain affiliate links which won't change your price but will share some commission.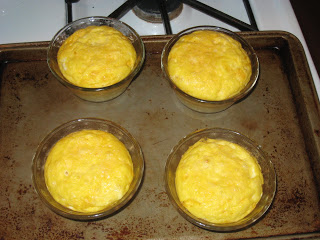 Last night I tried another Deceptively Delicious recipe. I used buttercup squash instead of butternut since that's what I had. It worked great! These were really good, really easy and really fun…everyone gets their own little dish. They are like mini souffles. There was no way I would have known that there was squash in the eggs. Even Justin had no clue. He couldn't even guess what I put in them. The only mistake I made was adding a little too much salt. I thought it said 1/2 tsp. instead of 1/4 tsp. So they were a little salty for me. But Justin didn't mind it.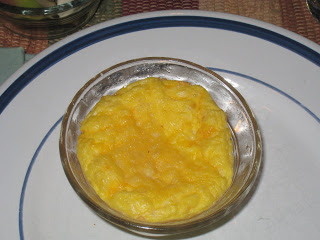 Definitely a keeper! I love that we got some extra veggies. And the recipe only uses 2 whole eggs and 4 egg whites…so it's healthier too. I served them with broccoli (that I froze), fresh apple slices and homemade blueberry banana walnut bread. Yum!!
*Edited 1/3/11 – Recipe updated to be NT compatible.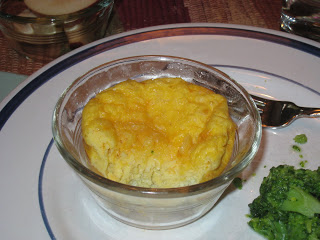 Baked Egg Puffs
5 large eggs
1/2 cup yellow squash or butternut squash (or buttercup squash or sweet potato) puree
2 Tbsp. shredded cheddar cheese
2 Tbsp. whole wheat flour (arrowroot might work…I have not tried it yet)
1/2 tsp. baking powder
1/4 tsp. salt
bacon, ham or sausage (optional add in)
Preheat oven to 400 degrees F. Coat 4 (1/2-cup) ramekins or coffee cups (I used my little glass pyrex dishes) with butter and set on a baking sheet.
In a large bowl whisk all the ingredients until combined. Divide the mixture among the ramekins or cups and bake until the tops are puffed up and the eggs are no longer runny in the center when pierced with the tip of a knife, 13 – 15 minutes (I baked them about 17 min. to be sure they were done). Serve immediately.