This post may contain affiliate links which won't change your price but will share some commission.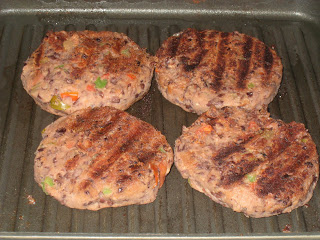 I've only ever tried making one non-meat burger. And Justin didn't care for it too much (I really liked it :). Last night I tried another, very different from the walnut burgers I made in the past. I got this recipe from A Good Appetite. So simple to make. And quite good. Justin definitely liked this burger better. It had good flavor (I modified the original recipe a bit, so I'm not sure how the original tastes). The texture was a little on the soft side. Maybe next time I'll try to cut back on the moisture. And if I shape them differently, maybe a litttle thinner, it should help. I cooked them longer than the the recipes says so that they at least got a decent crust on the outside. Otherwise they would have been totally mush. I used a grill pan. Maybe just a regular griddle would have been better for this type of burger.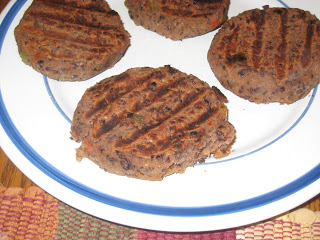 Definitely a keeper recipe. I'll have to keep experimenting with it. But a great alternative to meat burgers. And a very easy, healthy dinner. And clean up is pretty simple too. You can mix it all in one bowl 🙂 I served them with the usual burger toppings and sliced avocado. I'll add my mods in ().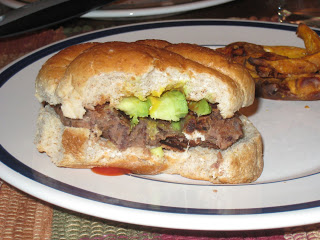 Black Bean Burgers
1 14oz can black beans, rinsed & drained (
organic
)
1/3 c red onion chopped (
I subbed red and green bell pepper (from our garden), finely diced
)
1/4 c bread crumbs
2 T Bacon Chipotle Sauce (or your favorite salsa) (
I used half and half homemade chili sauce and homemade salsa, chopped a bit since both are kind of chunky…and I added a little of extra liquid from the salsa…maybe I'll skip that next time
)
1 t ground cumin
Smash the black beans with a fork or potato masher. Stir in the remaining ingredients. Form into 2 or 3 patties (
I made 4 burgers out of this and they were plenty big…2 burgers would be gigantic!
). Cook on a well oiled grill or griddle 3 minutes per side (
I did at least 5 min. per side
). The burgers should be warm through.