This post may contain affiliate links which won't change your price but will share some commission.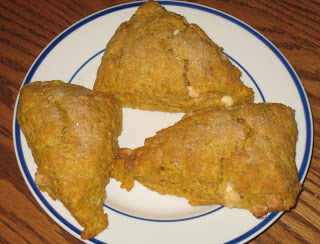 Last night for dinner I made quiche. And I always like to make scones when I make quiche. I saw a recipe for pumpkin white chocolate scones recently on Two Peas and Their Pod, and I knew I had to try them! These were so good!!! All 3 of us loved them. Simple to make, like most scones. I love that. Plus I had some buttermilk to use up. I didn't add the glaze last night. I might try that tonight or if we have them for breakfast some day this week (**Update…the glaze is awesome!!! I didn't think they could get any better…but they did 🙂. I got 8 scones out of the dough. I baked 3 and froze 5. I'll bake another 3 with dinner tonight and save 2 for a breakfast. Some dried cherries might be good in these, but definitely not necessary. The chocolate chips added just the right amount of sweetness. There aren't enough to make them super chocolatey. But you get a little hint of chocolate in most bites. I bet milk chocolate would be good too in place of the white. Definitely a keeper recipe. And that's one positive pumpkin experience for me. Hopefully there will be many more this month 🙂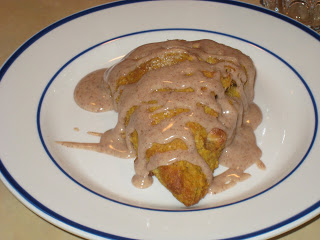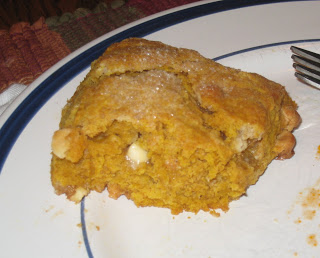 Pumpkin White Chocolate Scones
Scone Dough:
2 cups all purpose flour
1/3 cup light brown sugar
1/4 tsp. ground ginger
1/2 tsp. ground cinnamon
1/4 tsp. ground nutmeg
1/2 tsp. baking powder
1/4 tsp. baking soda
1/4 tsp. salt
1/2 cup cold unsalted butter, cut into pieces
1/3 cup white chocolate chips
1/2 cup buttermilk
1/2 cup canned pumpkin
1 tsp. pure vanilla
1 Tbsp. cream
Turbinado sugar for sprinkling on top
Spice glaze:
1 cup powdered sugar
1/2 tsp. cinnamon
1/8 tsp. cloves
sprinkle of nutmeg
milk
Add as much milk until desired consistency. Drizzle or spread over cooled scones.
Preheat oven to 400 degrees F and place rack in middle of oven. Line a baking sheet with parchment paper or Silpat.In a large bowl, whisk together the flour, sugar, spices, baking powder, baking soda and salt. Cut the butter into small pieces and blend into the flour mixture with a pastry blender or two knives. I use my hands! The mixture should look like coarse crumbs. Stir in the white chocolate.
In a separate bowl mix together the buttermilk, pumpkin puree and vanilla and then add the buttermilk mixture to the flour mixture. Mix just until the dough comes together. Do not over mix the dough.Transfer to a lightly floured surface and knead dough gently four or five times and then pat the dough into a circle that is about 7 inches (18 cm) round and about 11/2 inches (3.75 cm) thick. Cut this circle in half, then cut each half into 3 pie-shaped wedges (triangles) (I cut it into 8 triangles). Place the scones on the baking sheet. Brush the tops of the scones with the cream and sprinkle a little Turbinado sugar on top.Place the baking sheet inside another baking sheet to prevent the bottoms of the scones from over browning. Bake for about 20 minutes or until golden brown and a toothpick inserted in the middle comes out clean. Transfer to a wire rack to cool and drizzle scones with the glaze.