This post may contain affiliate links which won't change your price but will share some commission.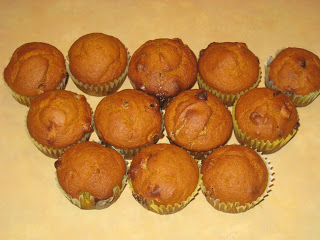 As usual after Rebecca's nap yesterday the first thing she wanted to do was bake 🙂 She goes to the kitchen and says "pour, pour…table, table." So I bring her little table into the kitchen and put on her apron. I didn't have any recipes planned, so I did a quick search in my recipe box. And I found a pumpkin chocolate chip muffin recipe. I don't know where I got it. And I don't remember if I've ever made it before. But I had just enough pumpkin left for it. And Rebecca loves chocolate chips. Plus she likes to put the muffin cups in the muffin pan. So I gave it a try. These were super easy to make. And they taste great!! Definitely a keeper. I'm starting to wish I had given pumpkin a chance a long time ago. I guess in reality I just don't like pumpkin pie. And I'm not a fan of the taste of plain pumpkin. But I do like things with pumpkin in them 🙂 I modified the recipe a bit and did 2-1 white flour to whole wheat flour. And I used a mix of semi-sweet and white chocolate chips. I think the white chips go well with pumpkin. That's one more thing that's growing on me…white chocolate. I used to not like it at all. But since I've been using it quite a bit lately I'm realizing that now I do. Funny how your tastes change as you get older. This recipe made 12 muffins.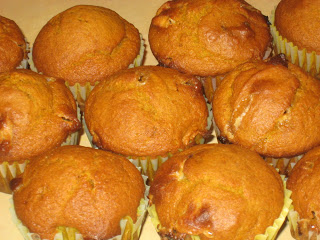 Pumpkin Chocolate Chip Muffins
3/4 cup sugar (I did half white and half light brown)
1/4 cup oil (I used canola)
2 eggs
3/4 cup pumpkin
1/4 cup water
1 1/2 cups flour (I used 1 cup all purpose and 1/2 cup whole wheat)
3/4 tsp. baking powder
1/2 tsp. baking soda
1/4 tsp. cloves
1/2 tsp. cinnamon
1/4 tsp. salt
1/4 tsp. nutmeg
1/2 cup chocolate chips (I used semi-sweet and white)
Heat oven to 400. Line muffin pan with baking cups or grease. Mix sugar, oil and eggs w/ whisk. Add pumpkin and water. Mix well. In a large bowl mix flour and spices. Add wet mixture to dry mixture. Stir in chocolate chips. Fill muffin cups 2/3 full. Bake 20-25 min.