This post may contain affiliate links which won't change your price but will share some commission.
For dinner last night I pulled out an old recipe. I've been making this since before Justin and I got married. But I haven't made it in a while. I don't remember where I got the recipe…I think it's Betty Crocker or Kraft. Very easy. And good. I'm not a huge pork fan. We never ate pork growing up (aside from ham or hot dogs once in a while). And it's hard on my stomach. So I don't make pork chops often. But Justin loves them. So I try to give him a treat once in a while. I serve this over rice. The apples/syrup in the bottom of the pan are really good on rice. And I like that it only takes 5-10 min. to prep. And doesn't make a huge mess. This is for 2 servings. You could easily double or triple the recipe. You'd just need a bigger casserole dish. I always add extra apple, cinnamon and sugar so there is enough to put over the rice.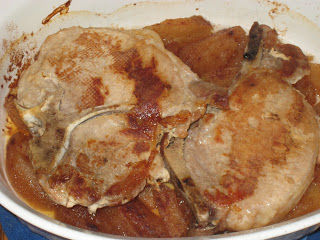 Pork Chops and Apples
1 medium unpeeld cooking apple, sliced (I use at least 2)
2 Tbsp. packed brown sugar (I adjust this depending on how many apples I use)
1/4 tsp. cinnamon (I adjust this depending on how many apples I use)
2 pork chops (I used center cut…any cut would work)
Heat oven to 350. Remove fat from pork. Coat skillet with cooking spray olive oil. Brown pork chops in skillet…about 2-3 min. per side. While pork is cooking slice apples. Place in the bottom of a 1 1/2 qt. round or oval casserole. Sprinkle with brown sugar and cinnamon. Place the pork chops in a single layer on top of the apples. Cover and bake about 45 min.