This post may contain affiliate links which won't change your price but will share some commission.
Last night Justin and I went out for dinner. But I still made dinner for the baby-sitters 🙂 This is another old recipe I got from an IBS message board. I modified it a bit for last night and made it in the crockpot…and a much larger quantity. I'll post the original recipe and my version. This is really good. And super easy. Plus it's easily adaptable to any tastes. You can add as much or as little spice as you like. And you can add any veggies you like.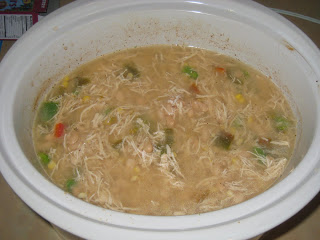 Southwest White Chili
Chicken breasts, cut in chunks
1/4 cup onion, chopped
1 cup chicken broth
1 can (4 oz.) chopped green chilies
1 can (19 oz.) canellini beans, drained
2 green onions
southwest blend:
1 tsp. garlic powder
1 tsp. cumin
1/2 tsp. oregano
1/2 tsp. cilantro
1/8 tsp. ground red pepper
Cook chicken and onions in large sauce pan 4-5 min. Stir in broth, chilies and spices. Simmer 15 min. Add beans. Simmer 5 min.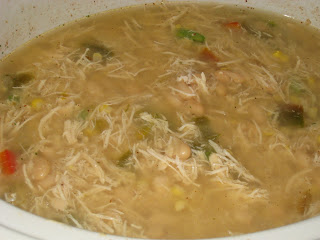 Southwest White Chili in the Crockpot
2 chicken breasts, fat removed
1/2 cup onion, chopped
6 cups chicken broth
2 cans white beans (I used northern)
1 cup frozen corn
1 cup bell pepper, chopped
2 tsp. garlic powder
1 tsp. salt
1 tsp. cumin
1 tsp. oregano
1/2 tsp. black pepper
2 tsp. chili powder
Combine all ingredient in the crockpot. Cook on high 4-10 hours or low 6-12 hours. At least a half hour before serving shred chicken. Serve with shredded cheese, avocado, sour cream, etc.