This post may contain affiliate links which won't change your price but will share some commission.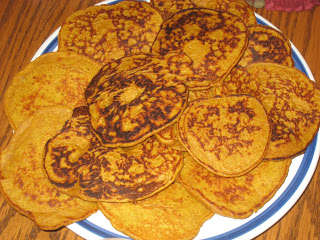 Last night for dinner I tried a recipe from Heavenly Homemakers for pumpkin pancakes. One more pumpkin recipe to try 🙂 These were ok. But the like/dislike had nothing to do with the pumpkin. It was just a kind of weird pancake recipe. I think it was largely due to the butter in the recipe. The batter didn't pour and spread out like a normal pancake. It just sat in a big lump. I tried spreading them out a bit, but they just kind of slid around on the pan. And then they didn't seem to cook all the way through. The flavor was fine. Just not the light, fluffy pancake we're used to. I did add a little sugar to the recipe to give it a little sweetness (about 3 Tbsp.). I used less butter than the recipe called for (if I try them again I'll cut it out completely). And I tried soaking my flour (never tried that before). I don't really know how to do that. I just mixed the flour and buttermilk and put it in the fridge until it was time to make dinner. Maybe that made a difference. Maybe I didn't do that correctly. Anyway, I served them with homemade strawberry topping, whipped topping (for Justin) and walnuts. With all that yummy stuff on top they tasted just fine 🙂 Justin and I both thought they were fine, but nothing amazing. I did make a double batch, so now we have some pancakes in the freezer again. I debated between this recipe and one from Two Peas and Their Pod. I'll have to try that one sometime with the cinnamon syrup. I bet they are really good!
*Edited 7/10/10 – Just realized I never updated this the last time I tried these. I made these a while back (a big batch to freeze), soaking them first. They turned out pretty good. I think I skipped the butter, which helped a lot. Just be sure to spread the batter well and don't make them too thick.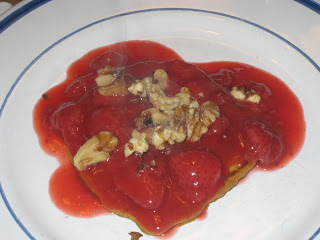 Pumpkin Pancakes
1 cup whole wheat flour
1/2 tsp. baking powder
1/4 tsp. salt
1/2 tsp. cinnamon
1/4 tsp. nutmeg
1/4 tsp. cloves
1/4 tsp. ginger
1 egg
1/2 cup canned pumpkin
3/4 cup buttermilk
3 Tbsp. melted butter (I used 2 Tbsp…I'll cut it out all together next time)
Butter for skillet or griddle
*I added about 3 Tbsp. sugar to a double batch
Whisk all ingredients together thoroughly. Heat skillet or griddle. Melt and spread butter over the surface to prevent pancakes from sticking. Pour 1/3 c. batter onto skillet for each pancake. Once bubbles begin to form, turn pancake over. Cook until golden brown. Makes about 8 pancakes. For my family of 6, I usually triple this recipe.
To soak grains:
Soak the flour in the buttermilk (or yogurt or kefir) overnight, then add the remaining ingredients the following morning before cooking.