This post may contain affiliate links which won't change your price but will share some commission.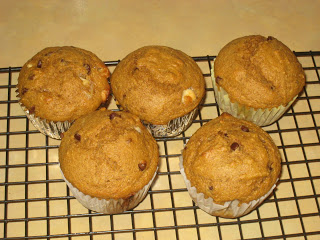 After prepping yesterday's dinner I had a little bit of pumpkin left. So Rebecca and I did more baking! I tried another pumpkin muffin recipe from All Recipes. This is a recipe for muffins. I made a few muffins and a couple mini loaves. The muffins turned out great! The loaves weren't as good…a little dark on the outside, not as done as I would like on the inside. A lower oven temp might help. I'll definitely be using this recipe for muffins in the future. It is a good recipe. And very healthy. I had a little more applesauce and pumpkin than the recipe called for, so I just skipped the oil. And they still turned out great. A whole wheat muffin with no oil or butter plus fruit and veggies added…sounds good to me! Of course we added a few chocolate chips to the muffins 😉 But they definitely don't need them. I added some walnuts to one of the mini loaves. This recipe is easy, healthy and kid-friendly. A keeper for sure. And it's pumpkin…yum!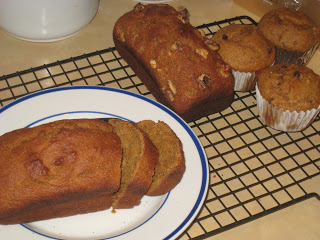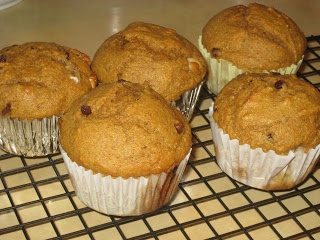 Whole Wheat Pumpkin Applesauce Muffins
2 cups whole wheat flour
1 tsp. baking powder
1/4 tsp. baking soda
1 tsp. salt
2 tsp. pumpkin pie spice (I added some extra cinnamon too since I love cinnamon)
2/3 cup brown  cane sugar, firmly packed (or sucanat)
1/3 cup cane sugar or sucanat
1/4 cup coconut oil or melted butter (I skipped this)
1/2 cup applesauce (I added just over a half cup)
1/2 cup canned pumpkin (I added just over a half cup)
1/3 cup buttermilk
2 eggs, slightly beaten
1/4 cup golden raisins (optional)
1/4 cup chopped pecans (optional)
Preheat an oven to 400 degrees F (200 degrees C). Grease 12 muffin cups, or line the cups with paper muffin liners.
Whisk together the flour, baking powder, baking soda, salt, and pumpkin pie spice; set aside. Combine the brown sugar, white sugar, oil, applesauce, pumpkin, buttermilk, and beaten eggs and mix until well blended. Pour the pumpkin mixture into the dry ingredients and stir until combined. Fold in the raisins and pecans, if desired.
Divide the batter evenly in the prepared muffin pan. Bake in the preheated oven until the tops spring back when lightly pressed, 15 to 20 minutes, or until a toothpick inserted in the center comes out clean. Cool the muffin pan on a wire rack for 5 minutes before removing the muffins from the pan.
*I baked the muffins for about 20 min. I baked the loaves for 35-40 min. I think they would have worked better at a lower temperature.