This post may contain affiliate links which won't change your price but will share some commission.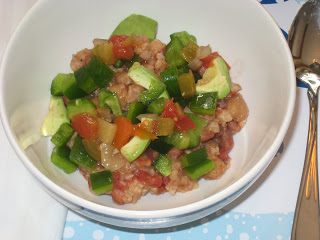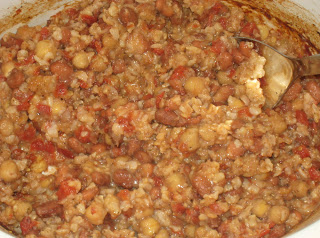 For lunch yesterday I wanted light, simple, healthy (since I knew Super Bowl evening food wouldn't be)…rice and beans fit all 3. I got this recipe from A Year of Slow Cooking. It's so so simple to prep. Literally about 5 min. I've never actually made or even had rice and beans. This was really good. All 3 of us liked it. Especially Rebecca. I think she'd eat rice and beans (of any kind) every day 🙂  I replaced the black beans with chick peas for Rebecca's sake. And I scaled back the rice a bit (I like a different ratio of rice to beans, and I didn't want to make too much). Since this was cooking while we were at church I couldn't monitor it. So the rice was pretty mushy, but still very good. Next time I won't cook it quite as long. I had it on high for a little bit and then on low, total of about 6 hours. This is good on its own, but we added some toppings. I served it with diced green pepper, avocado, salsa, sour cream and cheddar cheese. I'm not a huge sour cream fan, but that really went well with this. A great, cheap, meatless, healthy meal. I'll be making this again for sure! I bet it would be good with some veggies added in too.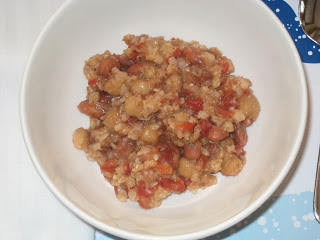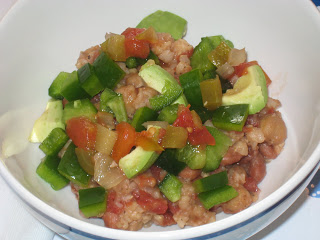 Crockpot Rice and Beans
1 can of black beans, drained and rinsed (I substituted chick peas…any bean will do.)
1 can of pinto beans, drained and rinsed
1 cup of rice (I used organic brown rice. I used 3/4 cups of rice and 1 1/2 cups of liquid.)
1 can (14.5 oz) of diced tomatoes, drained, liquid reserved
1 Tbsp. olive oil
1/2 tsp. kosher salt
1 tsp. Italian seasoning
1/2 Tbsp. dried onion flakes (I don't have onion flakes. I added garlic powder.)
Put the olive oil into the bottom of your crockpot, and add the rice. Swirl the rice around in the olive oil, until it is coated nicely. Add the beans and tomatoes. Add water to the reserved tomato juice to equal 2 cups of liquid. Add to crockpot. Add seasonings. Stir well. Cover and cook on low for about 6 hours, or on high for 3-4.