This post may contain affiliate links which won't change your price but will share some commission.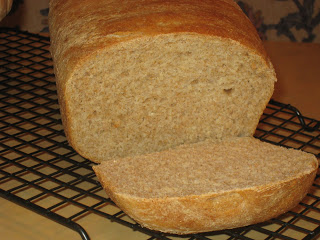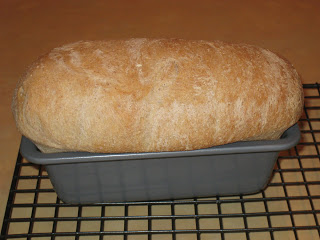 I baked my first loaf of bread for the month yesterday. I did a quick search for easy whole wheat bread, and this is first recipe I found. It's from All Recipes. It had great reviews and didn't sound too complicated. It's not 100% whole wheat, but I bet you could replace some of the bread flour with whole wheat or white whole wheat flour to make it closer to 100%. I just stuck with the original recipe for my first try. This turned out really well! It was quite simple to make. And I used my mixer! No kneading by hand 🙂  Definitely a good turnout considering some of the bad breads I've baked in the past. I think part of my problem has been patience. Yesterday when I was making the bread I was also playing with Rebecca, making dinner, getting her to bed, etc. So each of the rise times I let go a lot longer than usual since I was busy. And it really made a difference! I still have a ways to go to become a decent bread baker, but this was a good attempt. I didn't get it out of the oven until about 9:30 last night, but I still couldn't resist cutting into it and tasting a sliver while it was warm. YUM!! Very soft, moist and mildly sweet. Not too heavy either. I can't wait to try it tonight for our sandwiches. See how it holds up for sandwich bread. I only made a half recipe, so I did one full loaf and one small loaf.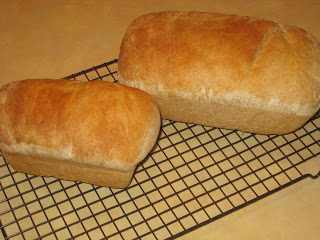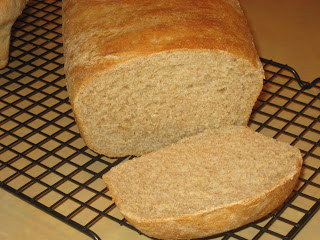 Simple Whole Wheat Bread
3 cups warm water (110 degrees F/45 degrees C)
2 (.25 oz.) packages active dry yeast (4 1/2 tsp.)
1/3 cup honey
5 cups bread flour
3 Tbsp. butter, melted
1/3 cup honey
1 Tbsp. salt
3 1/2 cups whole wheat flour
2 Tbsp. butter, melted
In a large bowl (I did this right in my stand mixer bowl), mix warm water, yeast, and 1/3 cup honey. Add 5 cups white bread flour, and stir to combine. Let set for 30 minutes, or until big and bubbly (I let it set for about 45 min.).
Mix in 3 Tbsp. melted butter, 1/3 cup honey, and salt. Stir in 2 cups whole wheat flour. Flour a flat surface and knead with whole wheat flour until not real sticky – just pulling away from the counter, but still sticky to touch. This may take an additional 2 to 4 cups of whole wheat flour (I kneaded it in my mixer for a few minutes). Place in a greased bowl, turning once to coat the surface of the dough (I used my mixer bowl for this too…only got one bowl dirty:). Cover with a dishtowel. Let rise in a warm place until doubled (I let it rise for about 70 min.).
Punch down, and divide into 3 loaves. Place in greased 9 x 5 inch loaf pans, and allow to rise until dough has topped the pans by one inch (I let it rise for about 90 minutes).
Bake at 350 degrees F (175 degrees C) for 25 to 30 minutes; do not overbake. Lightly brush the tops of loaves with 2 Tbsp. melted butter or margarine when done to prevent crust from getting hard (I used a little butter spray). Cool completely.
**Edited 3/4/10
This makes awesome sandwich bread!! I used my electric knife to cut normal size slices. So good! I hope I can keep up with the bread baking. This is far better than boughten bread. It's homemade for us!