This post may contain affiliate links which won't change your price but will share some commission.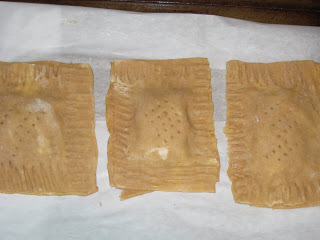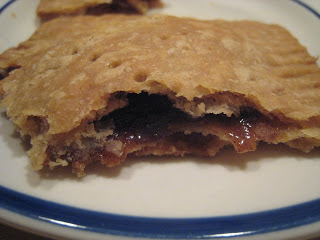 cinnamon brown sugar
I recently found a recipe for homemade poptarts (my MOPS group posted a link to the recipe…from Smitten Kitchen). I had to give it a try! So I made them for breakfast today. I made the dough last night and assembled and baked them this morning. In hindsight I think it'd be easier to do all the assembly the night before and then just bake them in the morning. There was still a fair amount of work to do this morning and I was quite rushed. They were fun, though. And taste great!! I made a few with a brown sugar cinnamon filling, a couple with peanut butter and chocolate and a couple with cashew butter and chocolate. I'd like to try them with my homemade cherry jam sometime too. We tried the cinnamon sugar today. Mmmm. That was always my favorite flavor poptart. (Side note…I now can't believe I used to eat them…so bad for you…all chemicals and processed junk). Of course I couldn't make them totally according to the recipe…I wanted to up the nutrition. I compromised for my first attempt…I didn't soak the grains, but I did use whole wheat flour (white whole wheat). Next time I'll experiment with soaking the flour first. I'm so glad I tried these! A fun breakfast to have once in a while. And so many filling possibilities. And it just dawned on me that I've been wanting to replace Justin's Saturday morning toaster strudel with something homemade for a long time…and this is exactly it! So you could call them homemade poptarts or homemade toaster strudels. Justin says they are breakfast pastries 🙂 Either way they are so much better for you than anything you buy in a box. We'll be trying the peanut butter chocolate ones tomorrow. And I have a couple packs of homemade poptarts in the freezer now for easy breakfasts. I didn't use any glaze, but you could. I just haven't figured out a healthy way to do it yet (need to replace powdered sugar somehow).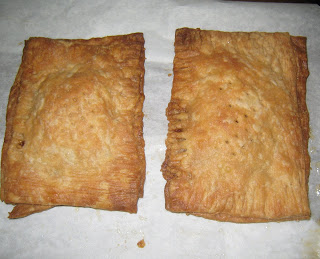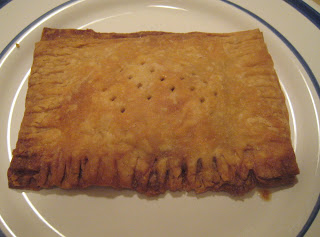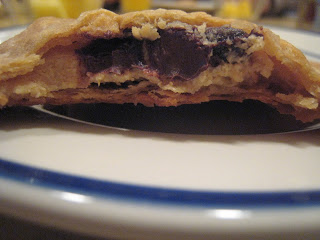 cashew butter chocolate
Homemade Poptarts (or Toaster Strudels or Breakfast Pastries)
Pastry
2 cups (8 1/2 oz.) all-purpose flour (I used white whole wheat)
1 Tbsp. sugar (I used organic cane sugar)
1 tsp. salt (I used sea salt)
1 cup (2 sticks or 8 oz.) unsalted butter, cut into pats
1 large egg
2 Tbsp. (1 oz.) milk (I used whole milk)
1 additional large egg (to brush on pastry)
Cinnamon Filling (enough for 9 tarts)
1/2 cup (3 3/4 oz.) brown sugar (I used orgainc brown cane sugar)
1 to 1 1/2 tsp. ground cinnamon, to taste
4 tsp. all-purpose flour (I used white whole wheat)
Jam Filling
3/4 cup (8 oz.) jam
1 Tbsp. cornstarch mixed with 1 Tbsp. cold water
Alternate fillings: 9 Tbsp. chocolate chips, 9 Tbsp. Nutella or other chocolate-hazelnut paste or 9 Tbsp. of a delight of your choice, such as salted caramel or a nut paste
To make cinnamon filling: Whisk together the sugar, cinnamon, and flour.
To make jam filling: Mix the jam with the cornstarch/water in a small saucepan. Bring the mixture to a boil, and simmer, stirring, for 2 minutes. Remove from the heat, and set aside to cool. Use to fill the pastry tarts.
Make the dough: Whisk together the flour, sugar, and salt. Work in the butter with your fingers, pastry blender or food processor until pea-sized lumps of butter are still visible, and the mixture holds together when you squeeze it. If you've used a food processor, transfer the mixture to a large bowl. Whisk one egg and milk together and stir them into the dough, mixing just until everything is cohesive, kneading briefly on a well-floured counter if necessary.
Divide the dough in half (approximately 8 1/4 oz. each), shape each half into a smooth rectangle, about 3×5 inches. You can roll this out immediately or wrap each half in plastic and refrigerate for up to 2 days.
Assemble the tarts: If the dough has been chilled, remove it from the refrigerator and allow it to soften and become workable, about 15 to 30 minutes. Place one piece on a lightly floured work surface, and roll it into a rectangle about 1/8″ thick, large enough that you can trim it to an even 9″ x 12″. [You can use a 9″ x 13″ pan, laid on top, as guidance.] Repeat with the second piece of dough. Set trimmings aside. Cut each piece of dough into thirds – you'll form nine 3″ x 4″ rectangles.
Beat the additional egg and brush it over the entire surface of the first dough. This will be the "inside" of the tart; the egg is to help glue the lid on. Place a heaping tablespoon of filling into the center of each rectangle, keeping a bare 1/2-inch perimeter around it. Place a second rectangle of dough atop the first, using your fingertips to press firmly around the pocket of filling, sealing the dough well on all sides. Press the tines of a fork all around the edge of the rectangle. Repeat with remaining tarts.
Gently place the tarts on a lightly greased or parchment-lined baking sheet. Prick the top of each tart multiple times with a fork; you want to make sure steam can escape, or the tarts will become billowy pillows rather than flat toaster pastries. Refrigerate the tarts (they don't need to be covered) for 30 minutes, while you preheat your oven to 350°F. (You can refrigerate them at this point and bake them later (i.e. the next morning). Or you can freeze them at this point…wrap in plastic wrap, parchment paper or wax paper and place in freezer bag. Thaw in fridge slightly before baking. Follow same baking instructions.)
Bake the tarts: Remove the tarts form the fridge, and bake them for 20 to 25 minutes, until they're a light golden brown. Cool in pan on rack.
Charming tip from King Arthur: Sprinkle the dough trimmings with cinnamon-sugar; these have nothing to do with your toaster pastries, but it's a shame to discard them, and they make a wonderful snack. While the tarts are chilling, bake these trimmings for 13 to 15 minutes, till they're golden brown.