This post may contain affiliate links which won't change your price but will share some commission.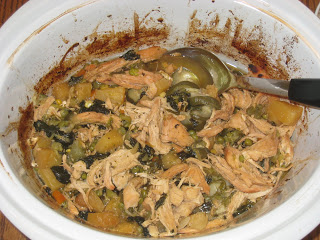 For lunch on Sunday I made crockpot Hawaiian chicken. I've made it before, but I guess I haven't posted it. It's a super simple recipe from A Year of Slowcooking. I modified it a bit this time to make it a little more like sweet and sour chicken. Either way it's very good! And so easy to make. Just toss a few ingredients in, mix and turn it on. I usually serve it over rice. I sprinkled some crispy pecans over mine for a little crunch.
Crockpot Hawaiian Chicken
enough chicken for 4 (I used 2 large chicken breasts…they were frozen when I put them in. I shredded the meat part way through cooking)
20 oz can of pineapple chunks, drained (I added some of the juice to the crockpot)
1/4 cup soy sauce (I didni't use much soy sauce this time…not a big fan of soy)
1 tsp. red pepper flakes (I skipped this this time, but it is good in here)
(I added some organic maple syrup to sweeten it a bit. Honey would work well too, but I was out of honey.)
(I added some mixed frozen veggies.)
Place the chicken into the crockpot. Drain the pineapple, and add the chunks with the soy sauce and the red pepper flakes. (Add veggies and honey/syrup.)
Cook on low for 4-6 hours, or on high for 3-4 (I had mine on high for longer.)  Shred chicken or break into smaller chunks if desired.
Serve over rice, quinoa, or on a bed of fresh spinach.