This post may contain affiliate links which won't change your price but will share some commission.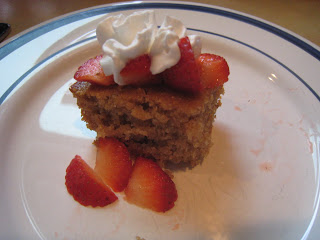 I've never really been a fan of strawberry shortcake. I don't like biscuit-type things or the sponge cake kind either. And I don't like whipped cream. So that leaves the strawberries 😛  And that is what I would eat growing up when my mom made it…just the sweetened strawberries (sometimes on ice cream) while everyone else ate the shortcake. It's strawberry season right now. And I decided I'd try making shortcake…never have before. Laura on Heavenly Homemakers posted a simple, healthy recipe the other day…that looked good to me…because it's not a biscuit or a sponge 😛  Rebecca and I made it yesterday. So easy! And really good. It is very mildly sweet. And goes really well with strawberries. I still have mine with ice cream instead of whipped cream, but at least this time I actually ate the shortcake 🙂  All 3 of us love it. Of course Rebecca is a girl after my own heart…I got her a little dish…but she wouldn't eat it until I added ice cream and chocolate 😛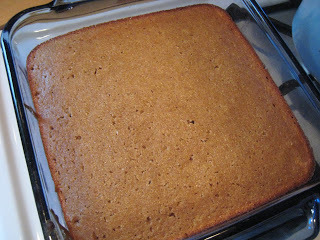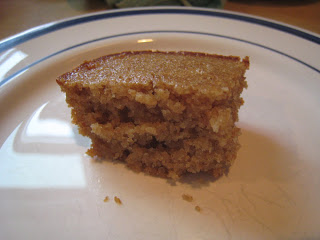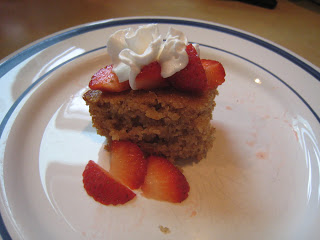 Whole Wheat Strawberry Shortcake
1 1/3 cups whole wheat flour (I use some freshly ground sprouted whole wheat and some freshly ground whole wheat flour)
1 tsp. baking powder
2 eggs
1/2 cup honey
1/3 cup oil (I use coconut oil)
1 tsp. vanilla extract
1/2 cup milk (I used my mild kefir)
4-5 cups of fresh, sliced strawberries (I gave it to Rebecca with fresh strawberries. I mashed some strawberries with cane sugar for ours 🙂  It's good both ways.)
Whipped cream (fresh cream whipped to form soft peaks, with a bit of stevia added for sweetness) (Justin had readi-whip on his…have some on hand to use up from a dessert I made for church last week. I had ice cream on mine.)
—————————-
Mix together flour and baking powder. Add in eggs, honey, oil, vanilla and milk. Stir well (or mix well with hand mixer). Pour into a well buttered 8×8 inch baking pan. Bake at 350° for 20-25 minutes (Mine took about 30 minutes).
Allow cake to cool completely. Top with fresh strawberries and whipped cream. (9 servings)