This post may contain affiliate links which won't change your price but will share some commission.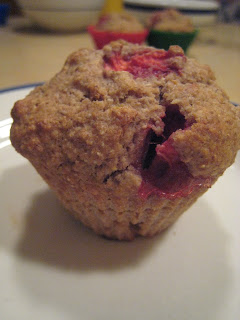 It's strawberry season, and we have a bunch in the fridge. And my sourdough starter is getting big. So I figured I'd use them up together. While searching for sourdough muffin recipes I mostly found recipe for blueberry muffins. And most of them are very similar. So I just picked one as my base. Then I used strawberries and bananas (I have some bananas to use up too) instead of blueberries. Any berry would work. I bet diced apples would even be good. I made these yesterday morning for breakfast. Yum!!! Very good. All 3 of us really like them. They taste great warm with a healthy spread of butter 🙂  Butter and sourdough are such a great match. These are mildly sweet and still have a hint of the sourdough flavor. I used the recipe from Sourdough Home. I'll post the original recipe and add my adjustments. This said it made 6 muffins, so I doubled the recipe…and got 21 muffins! I filled the muffin cups to the top too. Maybe it makes 6 jumbo muffins. I fed my sourdough starter the night before and let it sit on the counter so it was ready in the morning. I don't know if this step is necessary, but most recipes suggest it (although this one didn't). Some chopped crispy walnuts would be really good in these.
*Edited 8/5/10 – I made another batch of these today with a little mashed banana and some blueberries. So good!!! And more moist than with the strawberries. I used about 1 cup of berries instead of 1/2 cup. I got 12 muffins out of it.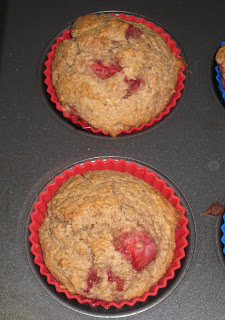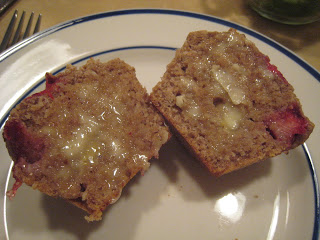 Strawberry Banana Sourdough Muffins
make 10-12 muffins
1 cup whole wheat flour
1 tsp. baking soda
1/4 cup sugar or fructose (You can double this if you want them sweeter. For a double batch I used 3/4 cups…worked well.)
1/4 tsp. salt
1 egg
1 tsp. vanilla
1/4 cup oil (I used coconut)
1 cup sourdough starter
1/2 cup blueberries (I added diced strawberries. I also added some mashed banana and some small banana chunks.) (I think they're better with 1 cup of berries…blueberries work very well.)
Preheat oven to 425F.
Combine dry ingredients in small bowl. Stir in blueberries (strawberries and banana chunks). Combine wet ingredients (and mashed banana) in medium bowl. Add dry ingredients to wet ones.
Mix quickly and spoon into muffin cups (I used silicon muffin cups…the muffins popped right out.).
Bake at 425 for 18-20 minutes.