This post may contain affiliate links which won't change your price but will share some commission.
This isn't really a new recipe. I always use my mom's recipe for meatloaf. And I posted it a long time ago. It's definitely a family favorite here. But in the summer I don't like to use the oven if I don't have to at dinner time…especially for over an hour. So I wanted to find a new way to make it. And this week in particular I had to…at dinner time on Monday our oven wouldn't turn on. It happened once a few weeks ago too. Justin is working on fixing it. In the mean time, I remembered seeing a post about crockpot meatloaf on A Year of Crockpotting a long time ago. So I thought I'd give that method a try. I made the meatloaf just like always. Then just stuck the pan right in my crockpot! Pretty neat. And it works. One more way to cook good food in the summer without heating up the house with the oven (we don't have AC) and without using a microwave. It's also nice if you need to prep dinner ahead of time. So, this is my usual meatloaf recipe…in the crockpot.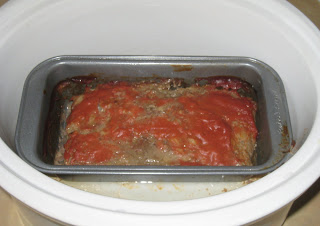 Crockpot Meatloaf
1 1/2 lb. ground beef
3/4 cup oatmeal (I soaked mine the night before)
1 1/2 tsp. salt
1/2 tsp. pepper
1 tsp. garlic powder
1 egg, slightly beaten
3/4 cup milk
1/4 cup diced onion
1/3 cup ketchup
2 Tbsp. brown sugar
1 Tbsp. mustard
Mix beef, oatmeal, salt, pepper, garlic powder, egg, milk and onion. Put in large loaf pan (that will fit in your crockpot). Mix ketchup, brown sugar and mustard. Put on top of meatloaf. Place pan in crockpot. Cook on high 4-5 hours or low 6-8 hours. You can drain some of the grease just by tipping the pan a bit in the crockpot and letting it run out (then you just have to clean the crockpot later).