This post may contain affiliate links which won't change your price but will share some commission.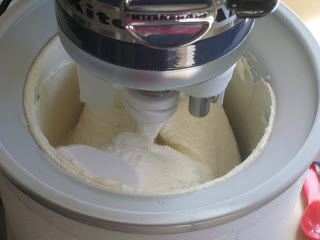 This morning Rebecca and I made a batch of vanilla ice cream. It is the Nourishing Traditions recipe. I never knew making good ice cream could be this easy. I mixed all the ingredients by hand in a large measuring cup and poured it into my ice cream maker. It took about 20 min. from start to finish (with Rebecca helping) to have yummy ice cream. I haven't gotten a chance to shop for arrowroot yet, so I added about a tsp. of cornstarch. But it's probably not necessary. And I also haven't had a chance to pick up really good cream. But even without that I know this is still way better for us than just about any ice cream I can buy. It doesn't even have sugar in it, just maple syrup. And it tastes unbelievable! I can't wait to try some when it's totally firm. I didn't end up adding any carob chips to it, but I will when I make it again sometime. Now I just need to make some carob sauce to pour over top 🙂  The homemade chocolate sauce (using good ingredients) I have in the fridge will have to do for now 🙂  Hopefully once I get all the good/correct ingredients I'll calculate the cost to see how this compares to buying ice cream. I didn't end up taking any pictures after it had firmed up and then we scooped some out. It scooped very nicely. And is so so good!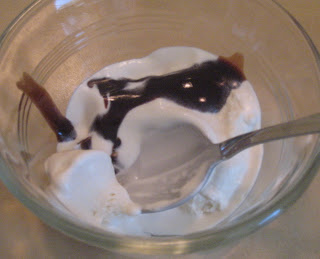 Right after making the ice cream…Rebecca had to try some "with chocolate" as always.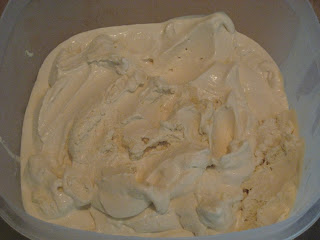 Vanilla Ice Cream
Makes 1 quart
3 egg yolks
1/2 cup maple syrup
1 Tbsp. vanilla extract
1 Tbsp. arrowroot
3 cups heavy cream, not ultrapasteurized
Beat egg yolks and blend in remaining ingrdients (I just did this all by hand with a whisk). Pour into an ice cream maker and process according to instructions (It took about 15 min. in my Kitchen Aid ice cream maker attachment). Transfer to a shallow plastic container, cover and store in freezer.