This post may contain affiliate links which won't change your price but will share some commission.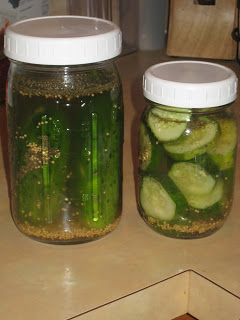 My latest experiment in fermentation is pickled cucumbers. These sound pretty safe 🙂  I assume they'll just taste like dill pickles. They are very easy to make. I got 6 pickling cucumbers at the farmer's market this week. 4 whole cucmbers fit in a quart jar. I sliced the other 2 and put them in a pint jar. I'll update in a few days with the verdict. This is another Nourishing Traditions recipe.
*Edited 7-6-10: I tried one of the pickle slices on Sunday. Pretty good. Definitely tastes like a dill pickle! I still have to try the whole pickle…when I'm in the mood for a lot more pickle 😛
Pickled Cucumbers
4-5 pickling cucumbers or 15-20 gherkins
1 Tbsp. mustard seeds
2 Tbsp. fresh dill, snipped (I used dried dill since that what I have)
1 Tbsp. sea salt
4 Tbsp. whey (use an additional 1 Tbsp. salt if you don't have any whey)
1 cup filtered water
Wash cucumbers well and place in a quart-sized, wide-mouth mason jar. Combine remaining ingredients and pour over cucumbers, adding more water if necessary to cover the cucumbers. The top of the liquid should be at least 1″ below the top of the jar. Cover tightly and keep at room temp for about 3 days before transferring to cold storage.
Variation: Pickled Cucmber Slices
Wash cucumbers well and slice at 1/4″ intervals. Proceed with recipe. Pickles will be ready for cold storage after about 2 days at room temp.