This post may contain affiliate links which won't change your price but will share some commission.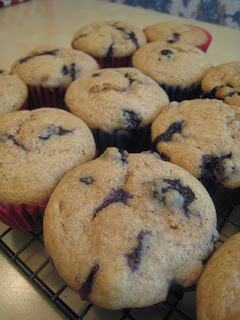 I'm trying to use up the perishable food in our fridge before we leave for vacation. And that includes some plain yogurt. Yesterday morning I made a batch of blueberry sourdough muffins. And Justin asked if I was going to make "regular" blueberry muffins. So I did a search for blueberry muffins that use yogurt and found a great recipe from Simply Recipes. I used whole wheat flour instead of AP. They turned out great! So moist. Rebecca and I had one yesterday morning after baking them…even though we had just had some of the sourdough muffins 😉  A great recipe. A great way to use fresh blueberries. And a great way to use up plain yogurt. I'm assuming the original recipe intends you to use fat free or low fat. I use whole 🙂  The original recipe says it makes 12-16 muffins. I got 22 regular size muffins out of this…filling each muffin cup to the top. Some crispy walnuts would be really good in these. You could also add a cinnamon-sugar topping if you like a really sweet muffin.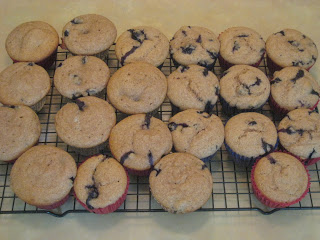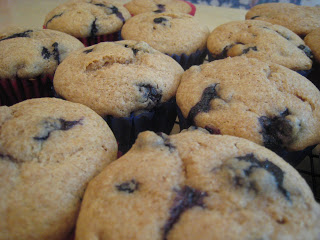 Whole Wheat Blueberry Muffins
makes 18 – 22 muffins
3 cups flour (I used whole wheat. You can use all purpose.)
1 Tbsp. baking powder
1/2 tsp. baking soda
1/2 tsp. salt
10 Tbsp. butter, softened (this was impromptu baking, so my butter was cold. I had to warm the butter on the stove. It was partly melted, partly soft. Still worked fine.)
1 cup sugar
2 large eggs
1 tsp. vanilla (This isn't in the original recipe, but I added it to mine.)
1 1/2 cups plain yogurt (I used whole)
1 tsp. lemon zest
1 1/2 cups blueberries (fresh or frozen, thawed)
1 Tbsp. flour (if using frozen blueberries)
Heat oven to 375. Whisk together the flour, baking powder, baking soda and salt. Set aside. In large bowl cream butter and sugar. Add eggs one at a time, beating after each one. Beat in lemon zest (and vanilla). Add flour mixture and yogurt alternately, 1/3 at a time, beating after each addition, just until blended. Do not over mix. Fold in berries (if using frozen, defrost, drain, and coat with a light dusting of flour.)
Pour batter into greased muffin pan or muffin cups. Bake 25-30 min., until golden brown on top and toothpick comes out clean. Let cool 5 min. and remove from pan.