This post may contain affiliate links which won't change your price but will share some commission.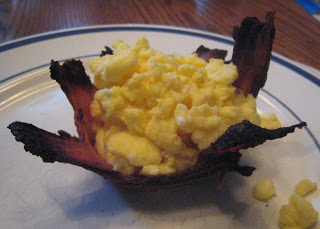 Last recipe post for a little bit. We're heading out tomorrow morning. So today will be church and packing…no new baking/cooking. The last couple days I've been trying to do simple meals, use up a few things (like eggs) and not create a bunch of leftovers. I thought it was a perfect chance to try making bacon bowls 🙂  I saw this recipe a while back on The Coconut Mama and thought it sounded like a really fun idea. Especially since Rebecca LOVES bacon. Seriously. I can't even put it on her plate because she wouldn't touch her other food. I have to give her a couple little pieces at a time and then make sure she eats some other stuff before giving her more. The original recipe uses them as salad bowls. But I decided to use them for scrambled eggs. So fun! A little bowl made out of bacon to put your eggs in. And so good!! Especially when you have great bacon from a local farm. This is a great meal when you're trying to get plenty of animal fat and protein in your diet. A great meal for fertility 🙂  Butter, whole milk and fresh eggs then bacan added to it! There are various ways you can arrange the bacon to create a bowl. Some people weave it. Some spiral it. Just do what you like. I laid mine over our 8 oz. pyrex bowls (turned upside down) and used toothpicks to hold it in place. I put them on a baking sheet to catch all the grease. They worked great for eggs. If you're doing a salad you might want to weave it/use more bacon so there aren't big holes. I used 4 slices each for the adult bowls and 3 slices for Rebecca's. That's all we had. And, yes, Rebecca ate every bite of hers and would have eaten more if there was any 😛  I bet these would be really good with chicken salad. Maybe that will be what I do next…my cashew avocado chicken salad in bacon bowls. Mmmm.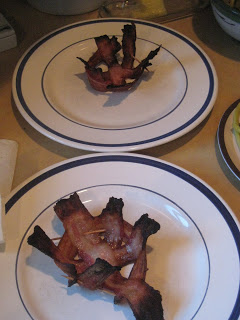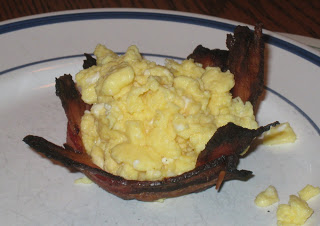 Bacon Bowls
bacon
mold – small bowls/cups/ramekins (upside down), muffin pan (upside down) or tinfoil balls (I personally don't like to cook with foil, but this will work if it's all you have or don't want to have as much clean up afterwards.)
toothpicks
baking sheet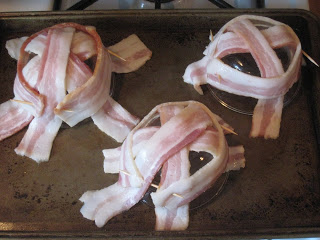 Arrange bacon around bowl/cup/foil and fasten with toothpicks. Place on baking sheet. Bake at 350 for 25 – 45 min.*  Remove with tongs and let cool/drain on paper towel. Fill and enjoy!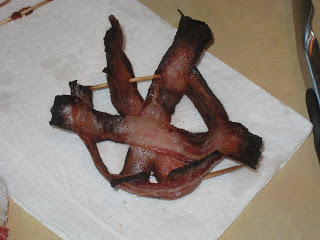 *You'll have to check these once in a while. The cooking time will depend on the thickness of the bacon and how many layers you have. With 3 layers at one spot on my bowls they took about 40 min.