This post may contain affiliate links which won't change your price but will share some commission.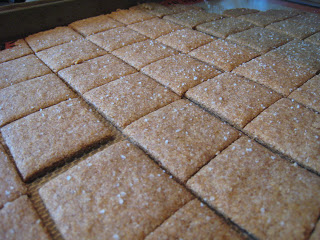 Since we're "taking it easy" around here I decided to do some baking with Rebecca today. Making crackers was one of my monthly goals, so I went with that. Laura on Heavenly Homemakers has a super simple recipe. Only a few ingredients, easy to do with kids, quick, not much mess. Just what I like. And they taste great! I'm sure mine have a little different texture since I use sprouted flour. But they are still very good. I only made a half recipe. That was enough for one full baking sheet of crackers. I had to increase the water and oil a bit to get a ball of dough. That could be due to the flour. They kind of remind me of saltines. But MUCH healthier. Maybe I'll be glad I have them around in a few weeks 😉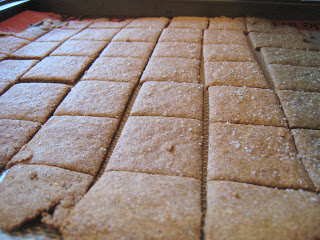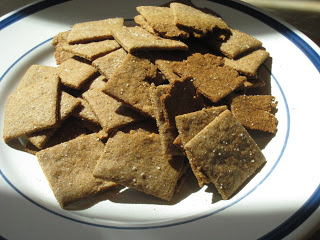 Whole Wheat Crackers
2 cups whole wheat flour (I used bulgur flour)
1/2 tsp. salt
1/2 tsp. baking soda
1/2 tsp. baking powder
1/4 cup oil (I used coconut oil)
1/2 cup water
Mix flour, salt, baking soda and baking powder. Stir in oil and water until a ball of dough has formed. Roll dough very thin, about 1/16 inch thickness on a cookie sheet. (I find it's easiest to roll dough between two pieces of parchment paper.) Use small heart cookie cutter to shape crackers. Bake in a 350 degree oven for 12 minutes. Turn off the oven, but allow crackers to sit inside while it cools. This will dry out the crackers so that they become crispy.
For square crackers, use a pizza cutter to cut the dough into 1 inch squares after rolling it onto a cookie sheet.