This post may contain affiliate links which won't change your price but will share some commission.
Last week I made my first batch of sauerkraut. I finally got around to tasting it today 🙂  Very good! It tastes like pickles to me. I just used the basic recipe in Nourishing Traditions. I used purple cabbage. Very simple (aside from a good arm workout pounding cabbage for 10 min.). Very good. And so great for your gut!! Plus it gets better with age. So it should taste really good in a few months 🙂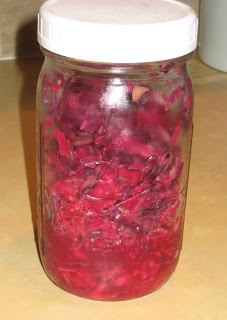 Sauerkraut
Makes 1 quart
1 medium cabbage, cored and shredded (I used my food processor for this)
1 Tbsp. caraway seeds
1 Tbsp. sea salt
4 Tbsp. whey, if not available use an additional 1 Tbsp. salt
In a bowl, mix cabbage with caraway seeds, sea salt and whey. Pound with a wooden pounder or a meat hammer for about 10 minutes to release juices. Place in a quart-sized, wide-mouth mason jar and press down firmly with a pounder or meat hammer until juices come to the top of the cabbage. The top of the cabbage should be at least 1 inch (2,5cm) below the top of the jar. Cover tightly and keep at room temperature for about 3 days before transferring to cold storage. The sauerkraut may be eaten immediately, but it improves with age.