This post may contain affiliate links which won't change your price but will share some commission.
I'm starting to venture into the land of homemade dairy products. Last night I started with the easiest ones…cream cheese and whey. It only takes one ingredient…yogurt. At some point I'd like to make my own yogurt, but for now I just use Stonyfield organic plain full fat yogurt. My real motivation for doing this was to get the whey. I need it for some recipes this week. It's just an added bonus that you get two foods out of this recipe. What's left after removing the whey could be cream cheese or greek (strained/thick) yogurt. Whichever you'd like to use it for. If you use it for cream cheese it will be a very soft cream cheese. Not like what you buy. This will be the real deal 🙂  I didn't make a ton since this was my first attempt…just used what was left in the container of yogurt (maybe 1 cup?). It took a couple hours for it to drain. So easy. Can't wait to try out our new cream cheese 🙂  I got the recipe/method from my Nourishing Traditions cookbook.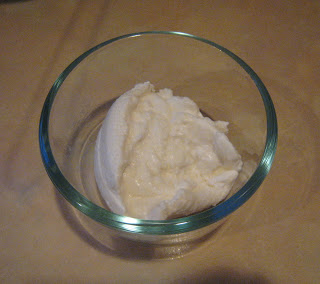 Whey, Cream Cheese and Greek Yogurt
Cheesecloth or towel for straining
Glass bowl
2 qts. piima milk, whole milk buttermilk, yogurt or raw milk
If you are using piima milk or buttermilk, let stand at room temp 1-2 days until the milk visibly separates into white curds and yellowish whey. If you are using yogurt no advance preparation is needed. If you are using raw milk, place the milk in a clean glass container and allow to stand at room temp 1-4 days, until it separates.
Line a large strainer set over a bowl with a clean dish towel (I used cheese cloth). Pour in the yogurt or separated milk. Cover. Let stand a room temp for several hours. The whey will run into the bowl and the milk solids will stay in the strainer. Tie up the towel with the milk solids inside, being careful not to squeeze. Let drain. When the bag stops dripping, the cheese is ready. Store whey in a mason jar and cream cheese in a covered glass container. Refrigerated, the cream cheese keeps for about 1 month and the whey for about 6 months.