This post may contain affiliate links which won't change your price but will share some commission.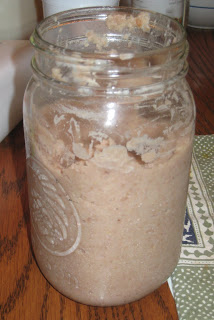 I'm trying out some recipes of lacto-fermented foods. Why? Because it's good for digestion, of course 🙂  It enhances the food's digestibility and increases the vitamin level. It also produces helpful enzymes and antibiotic and anticarcinogenic substances. And it promotes the growth of healthy flora in the intestines. To top it off…it's easy! So I say, why not? And especially now that it's hot it's nice to be able to make food that you don't have to cook. My first recipe is fermented bean paste. It sounded easy and delicious…kind of like hummus or refried beans. We haven't used it yet, so I'll have to update later with the verdict. I did taste just a little when I made it. It was quite strong, but good. I think part of the strong flavor comes from the onions I used…my FIL grows very strong onions. Maybe next time I'll use a milder onion. I forgot to take a picture when I made it, so I'll have to update later after we try it. You do need whey to make this (and most fermented fruits/veggies). You can make whey by straining yogurt. Very simple  I got this recipe from Nourishing Traditions.
*Updated 5/29/10 – We tried this last night. It's quite good. Justin and I both liked it. Like I said before, it's very strong. The next time I make it I'll use a milder onion. But it's still good. I served it with homemade pita bread (along with some hummus). Great combo. And it's good enough that I sometimes eat a spoonful before a meal (even if I'm not serving it with the meal) just to help my tummy. That's what it's for 🙂  It's kind of a condiment…like having pickles with a meal. You just have a little with your meal.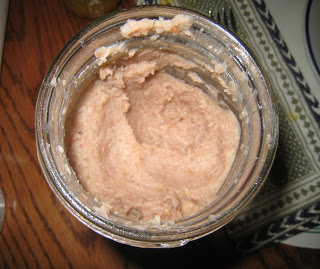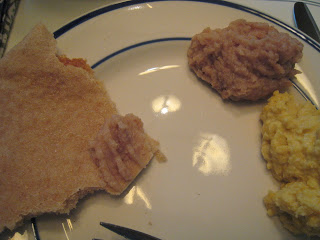 Fermented Bean Paste
makes 1 quart
3 cups beans, cooked and drained (I used pinto beans…soaked for about 24 hours then cooked  for an hour or two)
1 onion, peeled and coursely chopped (I didn't use this much onion and it was still very strong)
3 cloves garlic, peeled
1 Tbsp. sea salt (make sure it's unrefined sea salt)
4 Tbsp. whey
Place the onion and garlic in food processor and process until well chopped. Add remaining ingredients and process until smooth. Place in quart-sized wide-mouth jar, leaving 1 inch of space between the top of the beans and the top of the jar. Cover tightly and leave at room temp for about 3 days before transferring to the refrigerator (it might take less time if your house is hot or longer if it's cold). Serve as a dip with pita chips or tortilla chips.