This post may contain affiliate links which won't change your price but will share some commission.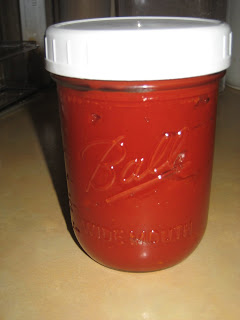 Another lacto-fermented food that sounded easy…and like something we would use regularly is ketchup! I've been wanting to make ketchup for a long time. And this sounded so easy and so good for my tummy. Perfect! It really was so simple to make. I can't wait to try it later this week. I did have a little taste when I mixed it…yum! Ketchup that helps you dgiest your food…genius 🙂  I only made a half recipe. This is from Nourishing Traditions. I like the quote from the author:
"A return to ancient preservation methods would transform America's favorite condiment from a health liability (produced in huge factories) to a beneficial digestive aid (produced as an artisinal product in farming communities)."
**Updated 5/30/10 – We tried this with beef brisket and french fries last night. Yum!!! It has a little different taste than the ketchup we normally use. But it's still very good. It reminds me a little of pizza sauce. Rebecca didn't even notice it wasn't what we usually eat. Or if she did she liked this one better. She was easting it plain…scooping it with her fork and eating it 🙂  There wasn't any left on her plate at the end of the meal. Definitely a keeper and a very easy way to eat fermented foods.
Feremented Ketchup
Makes 1 quart
3 cups canned tomato paste
1/4 cup whey
1 Tbsp. sea salt (be sure it's unrefined)
1/2 cup maple syrup
1/4 tsp. cayenne pepper (I left this out)
3 cloves garlic, peeled and mashed
1/2 cup homemade fish sauce or commercial fish sauce (I used commercial…maybe someday I'll make my own)
Mix all ingredients until well blended. Place in a quart-sized wide-mouth mason jar. The top of the ketchup should be at least 1 inch below the top of the jar. Leave at room temp for about 2 days before transferring to the refrigerator.