This post may contain affiliate links which won't change your price but will share some commission.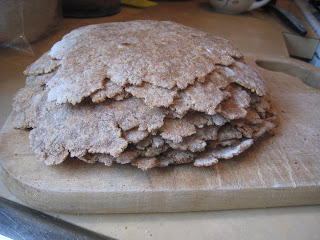 I've had tortillas on my list of things to try making for a long time now. I recently found a soaked recipe that sounded super simple on Naturally Knocked Up. So I had to try them. These really are soooo easy to make. And they're good! As usual Rebecca ate a whole one as soon as it came off the pan 🙂 She's my taste-tester. She definitely approved. And they were great wtih our tacos last night (more on that later). Of course with any first attempt they weren't perfect. I only made a half batch for my first try. I got around 15 tortillas out of it. They were a little dryer and a little thicker than we'd ideally like, but still very good. The recipe says the dough can sit for 1 to 8 hours. Mine actually sat for a little over 8 hours. And the tops of the dough balls got dried out a little. I think next time I'll make the dough slightly more moist. And I'll cover the balls better or not let them sit as long. I'll also try to roll them a little thinner next time. I did get them farily thin, but they could still be thinner. I love that these are soaked (I used yogurt this time. Maybe next time I'll try whey) and that they are whole wheat. And now I have supply of homemade tortillas in the freezer! These didn't take long to make. I prepped the dough in about 10 min. in the morning. Then making them took a half hour or less. I could roll one or two while one was cooking. And I had most of the mess cleaned up before the last one was done cooking.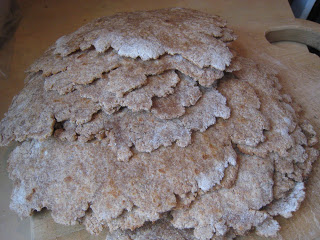 Whole Wheat Soaked Tortillas
5 cups of flour (I used whole wheat)
2 teaspoons salt (I used sea salt)
1/2 cup oil (I used EVOO)
1 1/2 – 1 3/4 cup boiling water
2 Tbsp whey, kefir, yogurt, etc. (I used yogurt)
Mix the flours and salt together and then hand mix in the oil and whey. Mix and rub together until it kinda looks like oatmeal. Make a well in the center and pour the boiling water in. Stir together until dough forms and is neither sticky or crumbly. Then roll into golf ball sized balls. For burritos, make them a bit bigger, for smaller tacos make just a tad smaller. Let sit, covered, for at least an hour or up to 8 hours.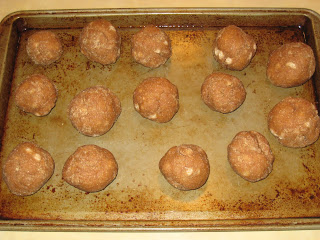 Then start rolling. (get your non stick pan started on a fairly high heat for about 5 minutes before you throw one on).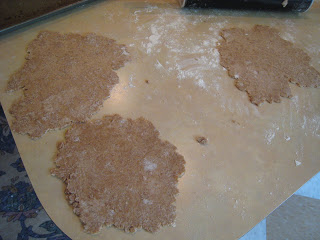 Plop it down on a hot naked pan (no grease!) for about 10 seconds until you see it just start to bubble around the edges.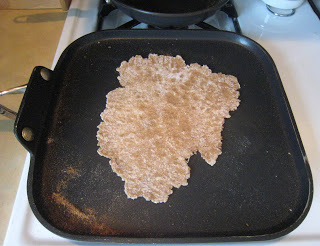 Flip over and let set for about 30 seconds. (Sometimes they puff up and I'll either just leave 'em or hold them down with a spatula, either way they turn out fine)
Flip over to the first side and cook for another 30 seconds. After doing a couple you'll begin to see exactly how high your stovetop should be set. You want them to cook quick, but not burn. Leave them undercooked and they can get dense.