This post may contain affiliate links which won't change your price but will share some commission.
Now that I have a sourdough starter, I need to use it! My first experiment was the obvious…sourdough bread. I got the recipe from Nourishing Traditions.
The recipe makes a LOT of bread. I only did a half recipe to try it out. Especially since I had no idea if my starter was even good. I didn't want to waste 13 cups of flour on something that might not work 😛 Plus I didn't have 8 cups of starter.
After making quite a few loaves of sourdough bread now I have adjusted the recipe for making one loaf.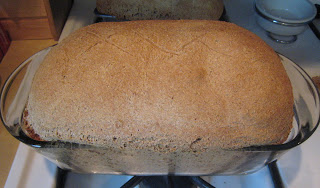 This is another plan ahead baking project. Sourdough bread has to rise for a long time. I mixed the dough in the morning (got the dough in the bread pans around 6:30 am). I didn't end up baking it until about 6 pm! This works well if you want fresh bread for dinner.
Prepare the dough in the morning. Then pop it in the oven about 90 minutes before dinner.
For many people making traditional sourdough sounds intimidating. But it is actually so much easier than making a yeast bread. You don't have to worry about whether or not the yeast is working. You don't have to get water temperatures just right. Sourdough is very forgiving. Plus it only takes three ingredients – flour, water and salt. Just mix, knead and bake.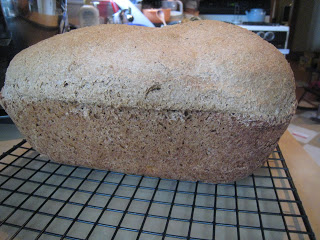 Sourdough bread has a wonderful, mildly sour taste. It goes well with scrambled eggs or a bowl of soup. In my opinion the best way to eat it is plain with lots and lots of butter!
Sourdough bread is also great if you are pregnant or nursing. The fermentation breaks down most of the gluten, if that is a concern (you must still avoid it if you have celiac). And sourdough bread helps with milk production. It is a great source of carbohydrates for a nursing mom.
Traditional sourdough is healthy and easy on your tummy. My whole family enjoys it even with our allergies and sensitivities. We seem to tolerate sourdough fine.
You can use a variety of flours when making sourdough. I always use rye for my starter. Then I usually use spelt for my baking. You can also use kamut or einkorn. Whole wheat works as well, but it may be harder to digest.
If you've never tried traditional sourdough bread you're missing out! Get your sourdough starter going and whip up a loaf of fresh bread. Your whole family will enjoy it.
Once you've mastered sourdough bread you can try other delicious recipes like english muffins, honey walnut bread, granola muffins, crackers, breakfast cookies, pizza dough and even graham crackers!
Do you enjoy sourdough bread? What is your favorite way to use sourdough?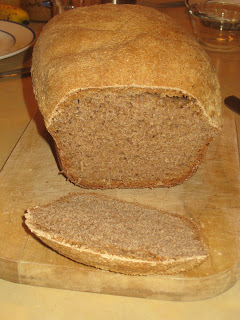 Sourdough Bread
makes 1 large loaf
2 cups sourdough starter (at room temp)
3 cups spelt, kamut, einkorn or hard winter wheat flour
1/2 Tbsp. course sea salt
3/8 cup cold filtered water
The day before making the bread feed your sourdough starter (be sure you have at least 3 cups total) and leave it at room temperature.
Place the starter, salt and water in a large bowl (a stand mixer bowl works well) and mix with a wooden spoon until the salt has dissolved. Slowly mix in the flour (with a dough hook in a stand mixer). Add extra flour if the dough is too wet. Let it knead for 15 minutes.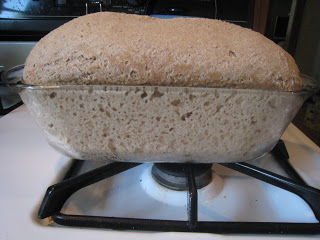 Without pressing down the dough, cut or shape loaf into the desired shape and place it in a greased loaf pan. Cut a few slits in the top of the dough, cover and let rise from 4 to 12 hours.
Bake at 350 for about an hour. Allow to cool before slicing.
The bread will keep for up to a week without refrigeration.